Predicting the Hottest Color Trends for 2024: A Sneak Peek at the Colors That Will Define Your Home
Home decor trends forecasted for 2024 focus on unique color pairings that balance joyful, attention-getting tones with timeless hues that are more subtle. This combination of dynamic and refined shades offers plenty of interior design inspiration, from paint colors and fabrics to building materials and trims.
Earthy shades will continue to spark interior design ideas but with added warmth. For instance, instead of home interiors heavy on white and beige, imagine palettes of taupe and greige, a combination of beige and gray. These colors offer a versatile backdrop for you to experiment with bolder shades and accents, injecting more personality into your space.
Here are some other predicted color trends for home interiors and exteriors:
Warmer natural tones: Earthy and natural tones are still the go-to choices for creating grounded, soothing environments. But instead of just deep or light browns, look for colors such as terracotta, olive green, sage and nutmeg—hues reminiscent of organic, natural elements such as sand, clay, wood and stone.
Moody, dramatic color palettes: Adding charcoal gray, deep navy, forest green or black to cabinetry, furniture or accent walls creates drama with coziness, experts say.
Lighter shades of calm: Creating a sense of tranquility at home is still top of mind, but instead of blues and greens for calm, expect more blush pink, dusty pastels and light grays.
Color combos: Combining autumnal and romantic hues such as mauves, browns and greens with brighter blues, reds and fuchsias adds a modern twist to vintage tones.
Bold accents: Artwork, furniture, accessories and upholstery are prime spots for energizing colors to pop against an overall neutral color scheme. Watch for rich jewel tones such as sapphire and emerald; vibrant citrus hues such as yellow, lime and apricot; and electric blues.
Jolts of joy: Whether used in accessories, upholstery or exterior paint colors for trims and accents, designers like fiery reds, fired brick, violet, magenta, sharp green, rich purple, tropical blue and golden green.
Subtle, complementary tints and tones: Look for deep forest hues, versatile tans, ethereal grays, deep grays and fresh off-whites.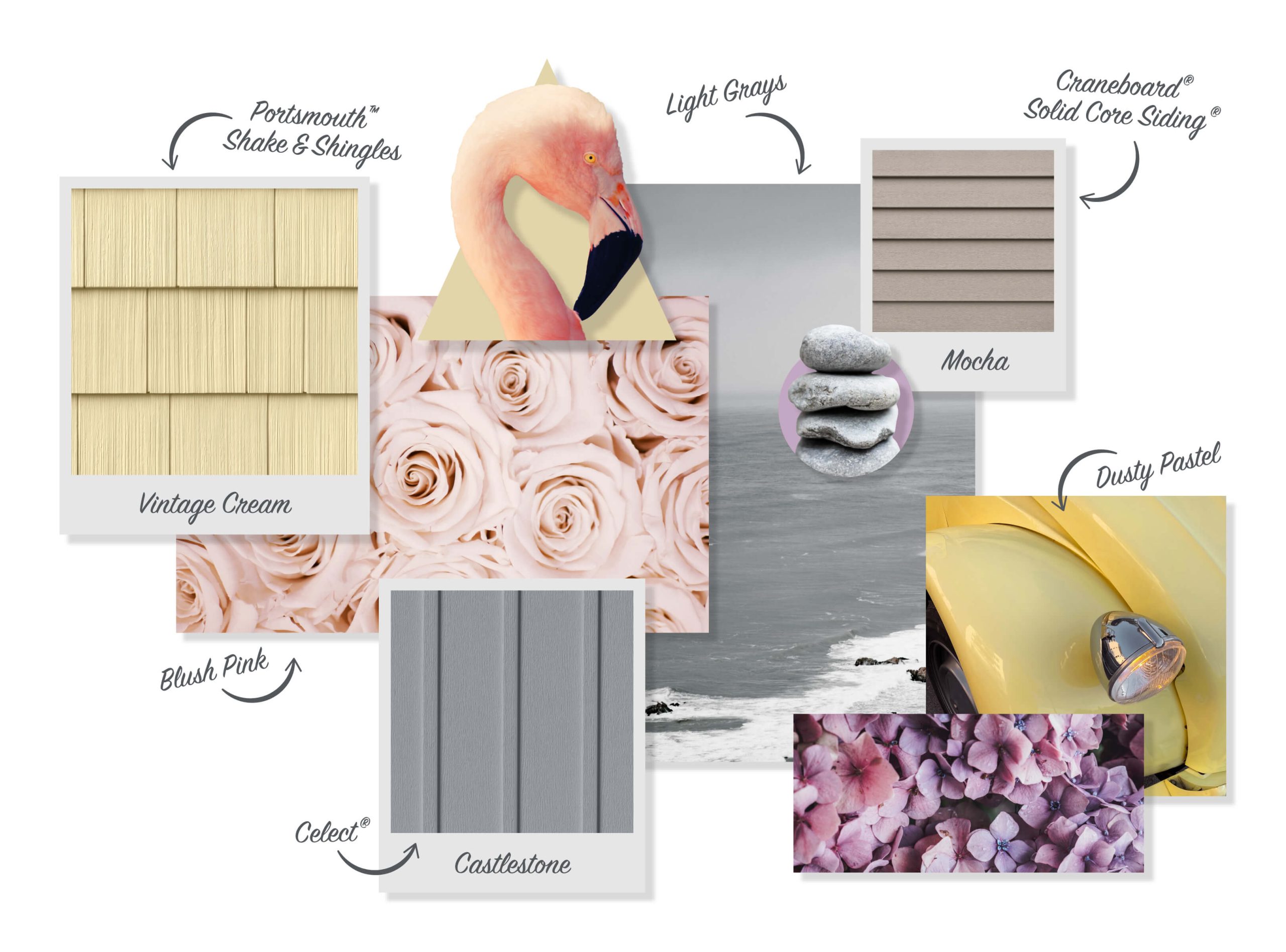 What Is Informing These Color Trends?
The pandemic inspired a desire to create more calming, restful spaces, but other factors have been driving home renovation trends recently. For instance, an interest in sustainability has spurred a yen for nature-inspired aesthetics, along with minimalist color schemes. Rapid shifts in the economy, society and technology also play a role, with consumers craving a subtle easiness and a way to balance contemporary design and timeless elegance.
Experimenting with different color pairings, such as splashes of vibrant hues with classic tones, is a way to explore creativity and infuse energy and imagination into our space.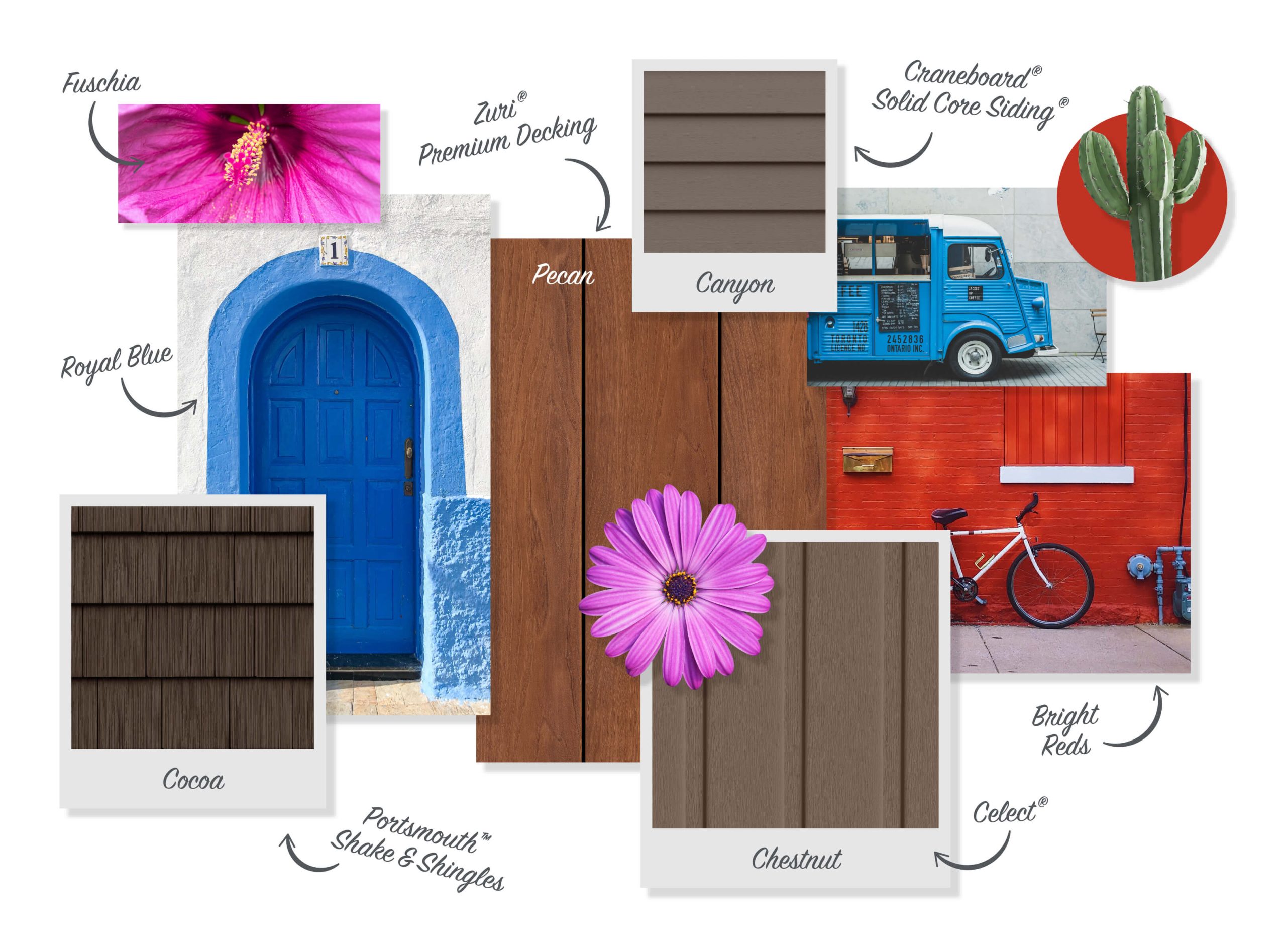 How Can I Use 2024 Color Trends in and on My Home?
Colors set the atmosphere and tone of a space, impacting our emotions and our well-being. Some hues can even influence a space's functionality and productivity, such as using muted blues or greens in a home office to promote concentration and focus.
Here are a few ways to incorporate 2024's color trends into your home remodeling ideas:
Wall paint: Creates a backdrop for other design elements with a solid foundation for an overall color scheme.
Furniture and upholstery: Makes a statement, creates a focal point or adds personality and visual interest through colors and patterns.
Accessories and decor: Rugs, pillows, curtains, artwork and other smaller decorative accents easily update a room's aesthetic on a budget.
Cabinetry and built-ins: The finishes on cabinets in kitchens, bathrooms and mudrooms can add depth and texture, such as covering cabinets in beadboard.
Accent walls and statement pieces: An armchair with vibrant upholstery can create an impact just like an accent wall in a trending color or a different finish, such as Versetta Stone or shiplap.
Exterior elements: Exterior remodeling elements such as paint colors, siding, trim colors, shutters, lighting fixtures and landscaping boost curb appeal and set a cohesive design tone.
See also: Easy Ways to Add Color to Your Home Exterior
Whether you're ready to jumpstart 2024 with a fresh color palette on your home's exterior or aren't sure where to begin, Westlake Royal's Visualizer Tools give you an idea of what a completed project can look like before you begin. Play with colors and experiment with textures to create the perfect combo that reflects your home's style.
Sources:
https://thefashionfrill.com/fashion/key-color-trends-of-2024/
https://www.pantone.com/articles/fashion-color-trend-report/new-york-fashion-week-autumn-winter-2023-2024
https://www.builderonline.com/design/interior-finish/move-over-neutrals-color-to-make-its-return-inside-homes-in-2024_o
Let the home style tips come to you.