LiveAbode's 2021 Home Design Trend Predictions
As we prepare to say goodbye to 2020 and usher in a new year, we're excited to look ahead to which home design trends we might continue to see, and which home design trends we might see emerge in 2021. This year we consulted the experts and asked them to weigh in. Keep reading to get the inside scoop on what 2021 home design might have in store!
Which 2020 home design trends do you predict will stick around in 2021?
Nature-inspired and outdoor living:
As we continue to spend more time in our homes, it's becoming increasingly popular to incorporate natural elements and an indoor/outdoor connection into home design. Here are a few experts who expect to continue to see a connection with the outdoors in homes in 2021:
Let the home style tips come to you.
Kate Campbell, contractor, HGTV personality: On the interior of the home, you're seeing a lot of dark accents, lighter floors, clean lines such as waterfall countertops and brass or gold hardware. People are craving more natural elements like floating wood shelves and showing their personality through unique additions like one-of-a-kind light fixtures. 
Tyler Grace of TRG Home Concepts: This year many people have invested in exterior living spaces, kitchens, and expanding their existing homes. I believe people will continue to invest in areas of their home that make living more comfortable and more enjoyable. 
Rob Rabago, Product Manager, Royal Building Products: I expect that beautiful, low-maintenance outdoor living enhancements will continue strong into 2021. Decks, pergolas, open air patios, and outdoor kitchens and entertainment areas will take center stage.
Beau Clowney, architect, 2020 Southern Living House: I see well-designed outdoor living spaces being a fixture in homes moving forward, particularly when it comes to entertaining. Having spaces that ventilate and provide additional access to outdoor spaces will continue to be important. I also see the role of the butler's pantry, a home fixture that is being reinvented constantly, becoming increasingly key as how we entertain evolves.
Mixing and matching home exteriors:
More and more homeowners are looking to mix and match colors, textures, and styles to create a unique look for their home exterior. Modern home design, including the modern farmhouse style, is becoming more rooted in contrasting colors and unique materials. Gone are the days of all one style and one color on your exterior. But don't take our word for it, here's what the experts are saying: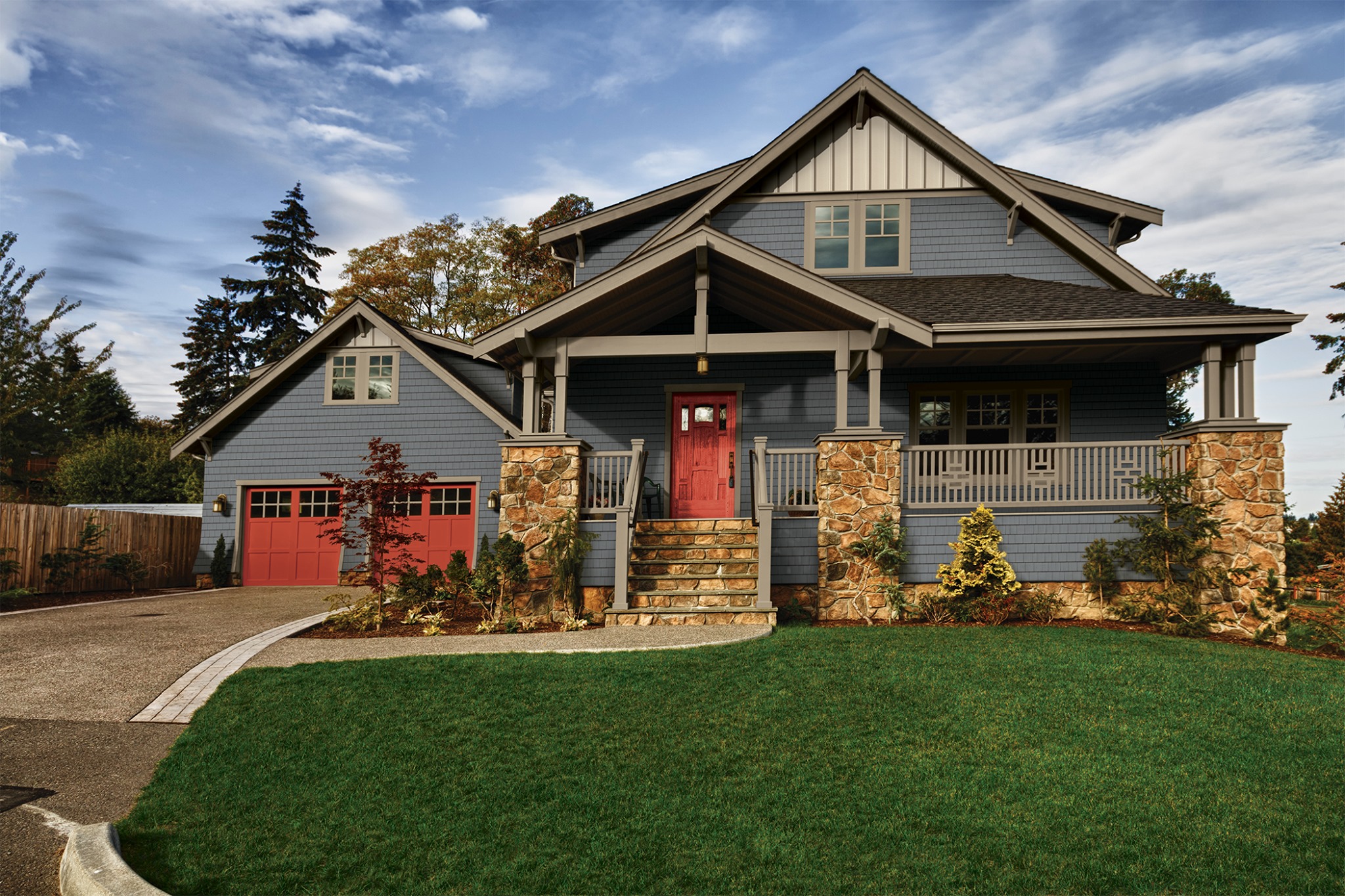 Joe St. Angelo of Tip Top Exteriors: We saw a lot of craftsman style home builds in 2020 and I believe that style of home will continue to be popular in 2021. I also think we will continue to see more modern designs using wood tones and paneling.
CJ Johnson, Director, Product & Marketing, Vinyl Siding, Royal Building Products: The days of simply using lap siding across the entire home has passed. A modern home design incorporates several materials. Whether it is the use of shake in the gables, board & batten on a porch wall, or a stone accent wall, the use of multiple elements adds visual excitement and is found on almost all new home builds and remodeling projects.
Adam McCool, Product/Marketing Manager, Royal Building Products: We're seeing the farmhouse look going strong into 2021, which of course includes board & batten, white features and dark trim.
Kriss Swint, Director, Marketing Communications, Royal Building Products: I see modern home designs becoming the predominant style for new home builds. These homes will utilize dark grays and blues contrasting with wood textures and bold trim.
Kate Rumson, Founder, Creative Director, The Real Houses of Instagram: I think that shingle style siding will continue to be popular because of its warm, welcoming and family oriented feel. Homeowners want to feel comfortable in their homes and nothing says comfort like pulling up to a shingle style exterior.
What new home design trends do you see on the horizon for 2021?
As we learned from our experts, homeowners are looking for spaces to relax in. But some unique elements to this trend may be coming in 2021. Check it out: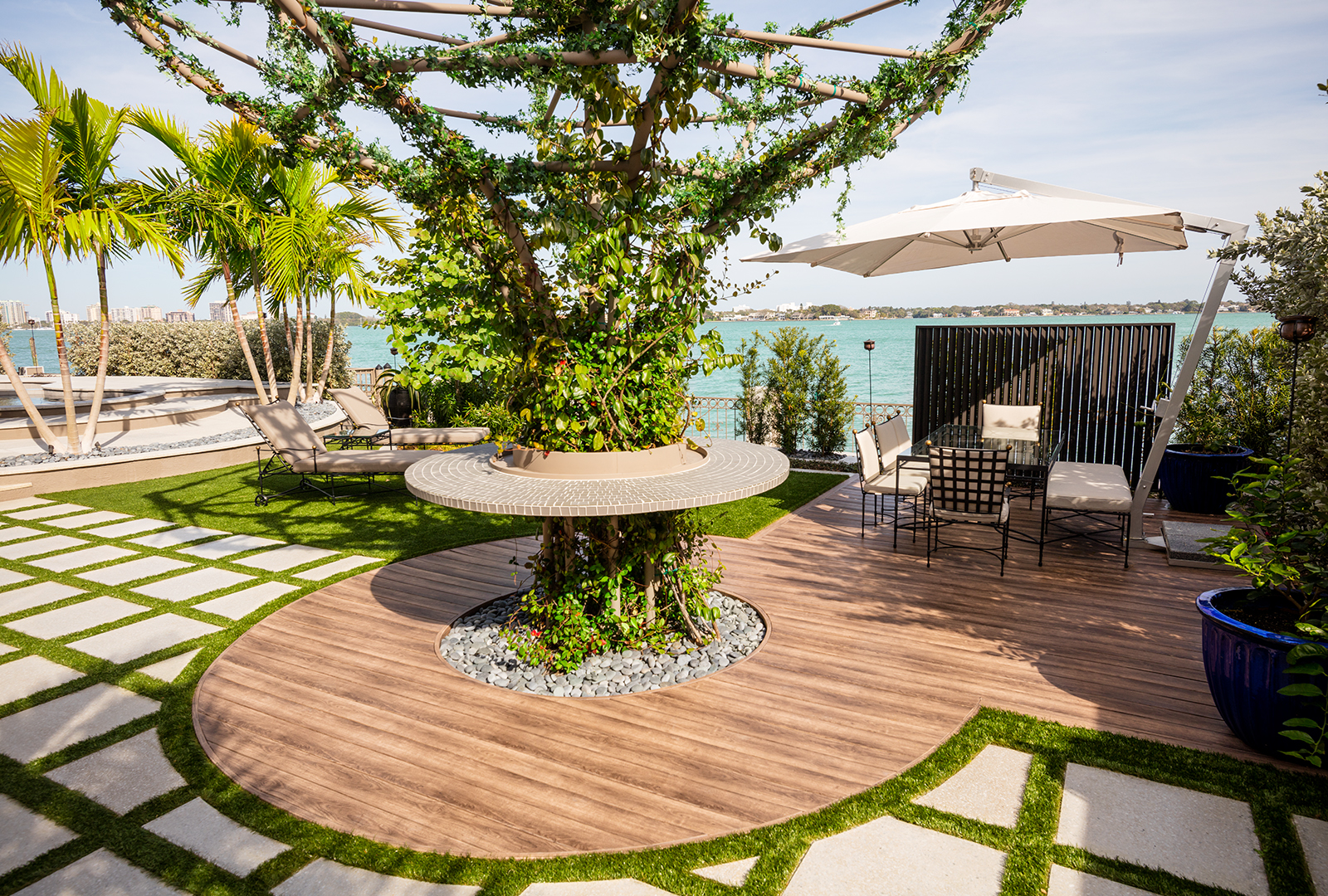 Campbell: The trend I'm most looking forward to seeing in 2021 is living more simply by identifying the important things in life and creating healing, cohesive spaces. I believe you'll see a lot of people either working with their current floor plans and renovating instead of moving, or moving into smaller spaces, building backyard gardens and living more holistically. Saunas, gyms, cold tubs, meditation rooms, etc. I can't wait to see how we incorporate healthy living into our living spaces.
Grace: I think we will see more outdoor kitchens, landscaping, pools, decks, patios, and porches. Pools are closed, vacations have been cancelled, and restaurants and bars have limited access. This will inevitably lead to people spending money to create an area to entertain within their own confines. 
McCool: I expect we will see more creativity when it comes to how people utilize their outdoor space. This can include creative ways to use decking, including things like outdoor movie theaters and even more outdoor kitchens.
Clean and natural:
Natural light is of course important to thoughtful home design. You're creating ways to infuse natural light into a home as another way of connecting the interior with the exterior. Combine clean lines and simple design with natural light, and you've got our next 2021 trend. See what specific design elements we may see more of: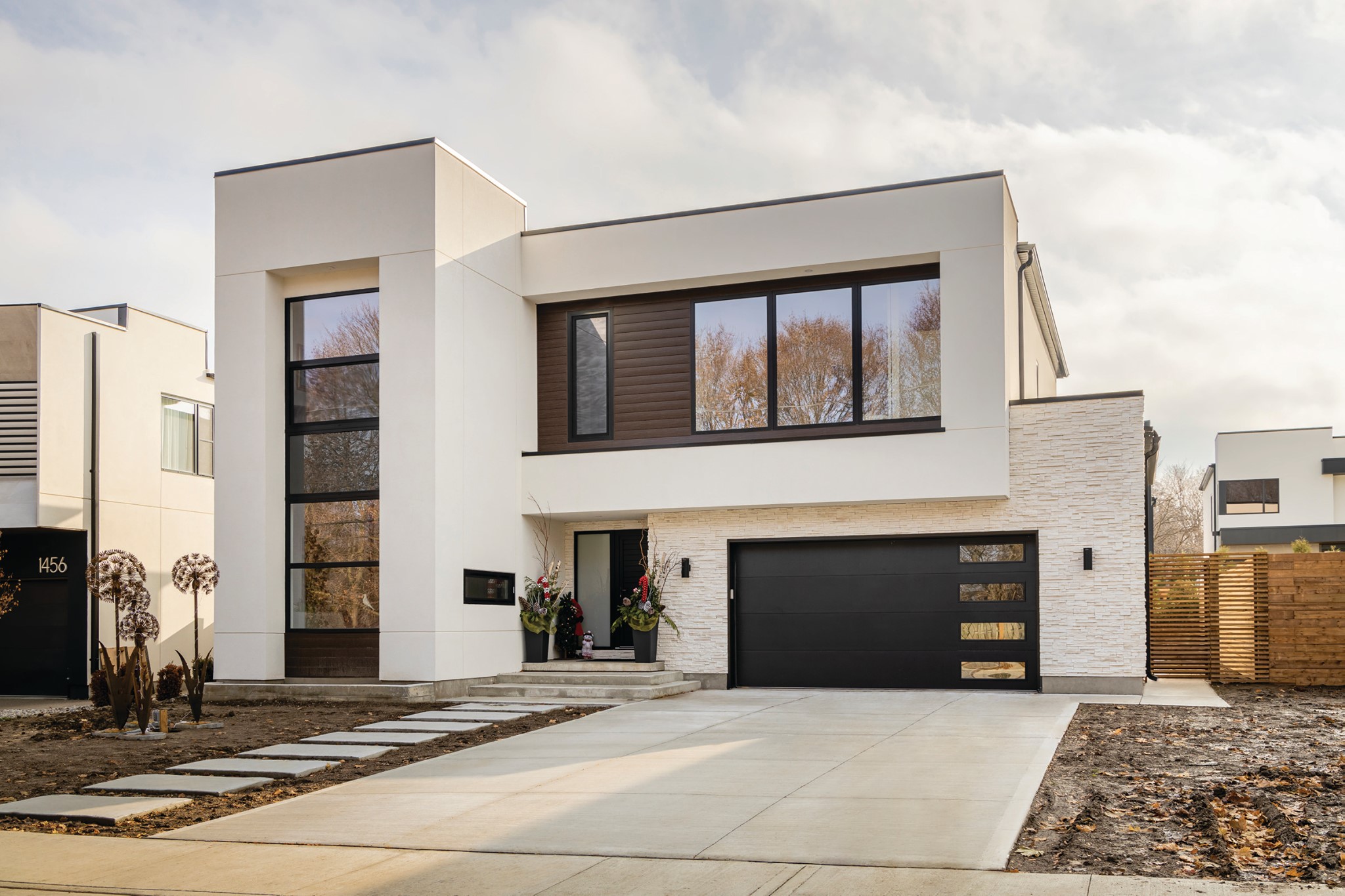 Swint: With the chaos of 2020, design is going to go minimalist in 2021. Clean lines, warm colors and saturated hues are going to gain popularity.
Rumson: More and more homeowners are starting to gravitate towards clean lines and modern elements in design and architecture.
Clowney: Skylights are coming back because homeowners want natural light in whatever way they can get it. Similarly, we're going to see more use of interior glass partition walls as a means of transferring light to spaces on the interior volumes of the house.
Dark colors, bold trim:
Dark colors on home exteriors have been trending for a few years, but we are seeing a slight shift in hues. Trends are moving away from charcoals to dark blues. Add bold trim, and you've got a home ready for 2021. Here are a few tips from our experts: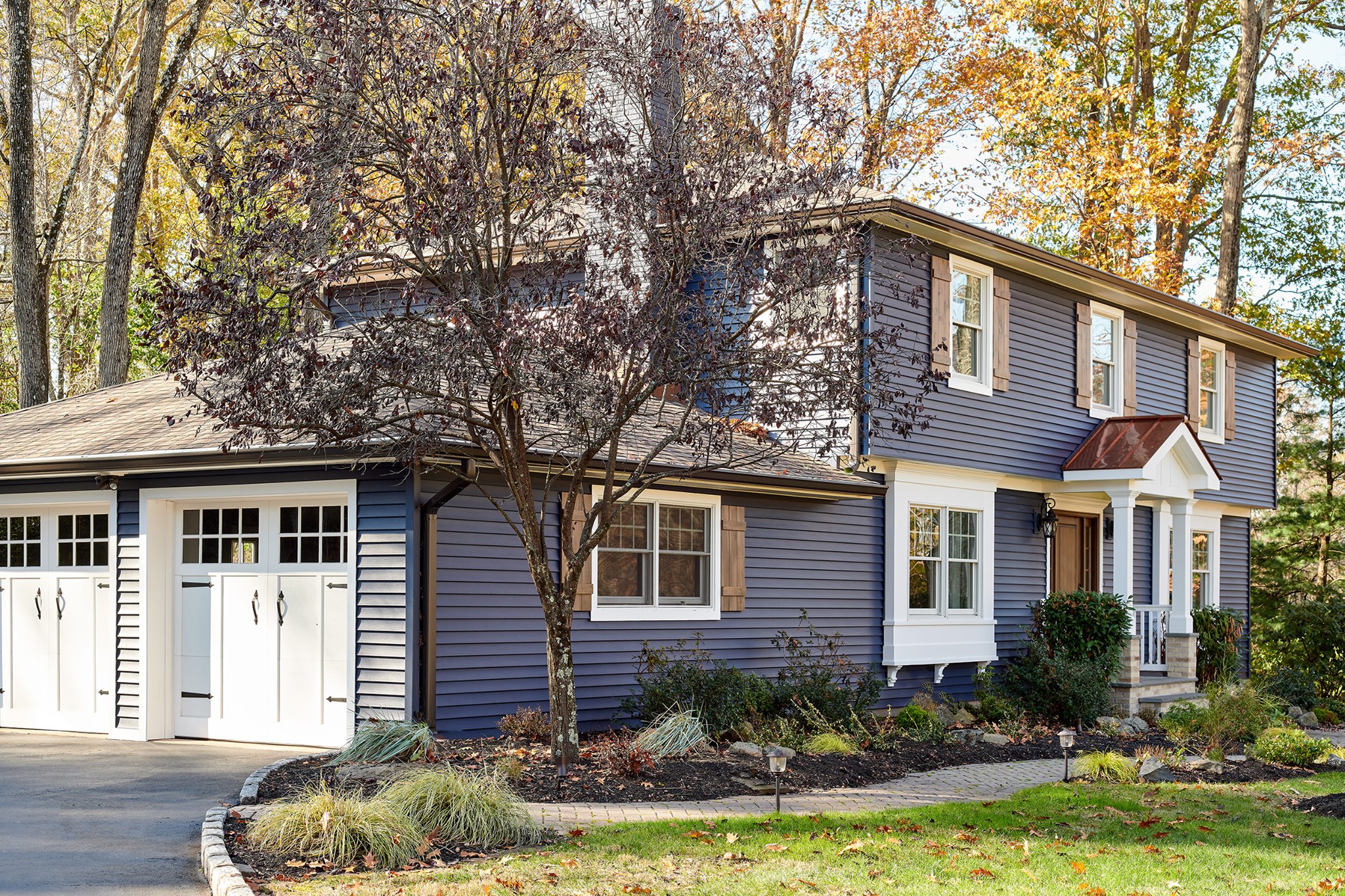 Johnson: There is still a strong market for the lighter clays and beiges, but where we have seen real growth is in our dark colors. Designers and homeowners consistently tell us that homeowners want a bolder look that turns a house into a statement home. A color like Marine Blue (a navy blue) has exploded on our sales charts since its introduction. We expect these trends to continue into 2021 and beyond. 
Rabago: Craftsman style trim continues to grow in popularity. Our Craftsman trim options with clean, bold lines make this a stunning interior feature for any room and a welcome move away from age-old colonial style trim.