Exterior Design Tips Only the Experts Know
We're enjoying these warmer temps, which means it's time to spruce up your home exterior! We consulted the experts to learn the latest and greatest exterior design tips. Grab a notebook or open that notes app because you're going to want to remember these 2021 exterior design tips that will transform your home's curb appeal.
Where do you even start with dreaming about exterior home design renovations?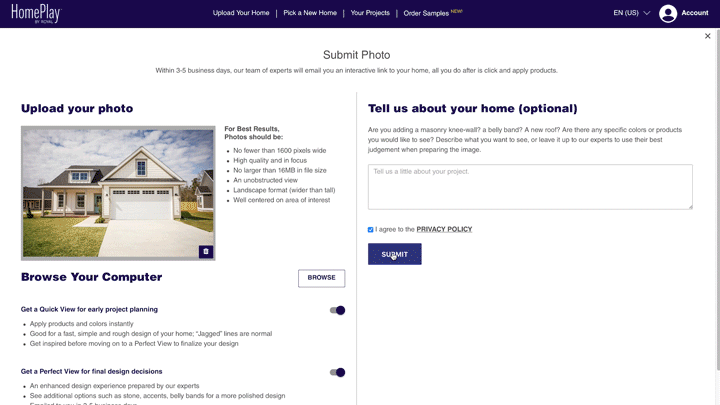 Kriss Swint, Director, Marketing Communications, Royal Building Products, suggests using online design tools. There are many free design tools available online. Royal has an assortment of tools—check them out here!
Use the QuickView mapping feature available in all three design tools to instantly start designing your exterior with siding and trim. This is a great resource to quickly see how a design might look on your home.
How can you bring your dream exterior design to life and not bust your budget?
Adam McCool, Senior Marketing Manager, Royal Building Products, believes that small changes make a big difference. If you're feeling overwhelmed with your budget and lack of time, start small.
Good news: Big changes to your home don't always mean you have to spend a lot of money.
Adding a deck can feel like a big project. But, as our expert Adam shared, "Decking doesn't always have to be high off the ground. Try a small sitting area deck only a foot off the ground—this can change the entire look of your outdoor living area and eliminate the cost of railings."
Here are a few more ideas of how to think small for big results: consider adding shutters, update your window trim, or try simple column wraps. These simple changes can refresh the entire style of your home with a very small amount of material.
CJ Johnson, Director of Product & Marketing, Vinyl Siding, Royal Building Products, also shared helpful tips on simple changes that are manageable and will make a huge impact! "We all know that dryer vents aren't the most attractive element of your home," offers CJ. "Consider adding mounts and vents in a matching color to your siding. Try to replace a stark white contrast with a color that will blend with your siding."
Are there ways to make your home exterior feel like an expert-designed vacation resort?
Use light to accentuate your outdoor space. "Whether it's uplighting on your house, accent lighting in your landscape, or even overhead lighting," says CJ. Quality outdoor lighting creates ambiance and the ideal setting for your next outdoor event or a nice glass of wine on your back deck (just like you're relaxing at that resort!).
What are some common mistakes on exterior home design that homeowners can avoid?
Jim Hartley, owner of Handyman Hartley, advises homeowners to pay attention to the various size options when you're considering your product selection and planning your exterior design. "There's nothing worse than ordering 12' deck boards and then cutting off 1 or 2 feet to throw away," says Jim. "Thorough calculations ahead of time will mean the world to the final end product appearance and budget."
Want to take that deck design to the next level? Jim says to also make sure that you add edging pieces for a professional addition to your deck design. "You'll also want to pay close attention to the spacing on the boards when you're planning your deck layout. These seemingly small details can really elevate your home renovation project to expert-level."
Anthony Davani, CEO of The Davani Group, suggests choosing landscape material based on climate. Consider your building materials wisely, just as the experts do when they take into consideration your climate. You might need different materials if you live in New York compared to Miami. Do you need your decking material to absorb heat so that you can comfortably walk barefoot?
"Choose the right material and plan your exterior design carefully to fit the needs of your specific climate," says Anthony. This might feel like a no-brainer, but experts know the importance of zeroing in on every detail of your environment.
How can I bring the feel of my indoor space into my outdoor space?
Tim Bakke, home design expert and director of publishing at The Plan Collection, a pioneer of online home design plans, shares all about indoor-outdoor "rooms."
"Home designs featuring large stacked sliding glass and disappearing walls blur the line between indoors and outdoors even more, with the entire wall of a living room or Great Room that opens up to a covered patio or deck for a seamless transition," says Tim.
Are you looking for this refreshing, open-air transition and indoor-outdoor room? This can significantly expand your space for entertaining. Try lining up several sliding glass doors to give the appearance of a glass wall. A disappearing wall can be complex and expensive, so this is a great way to make a similar impact.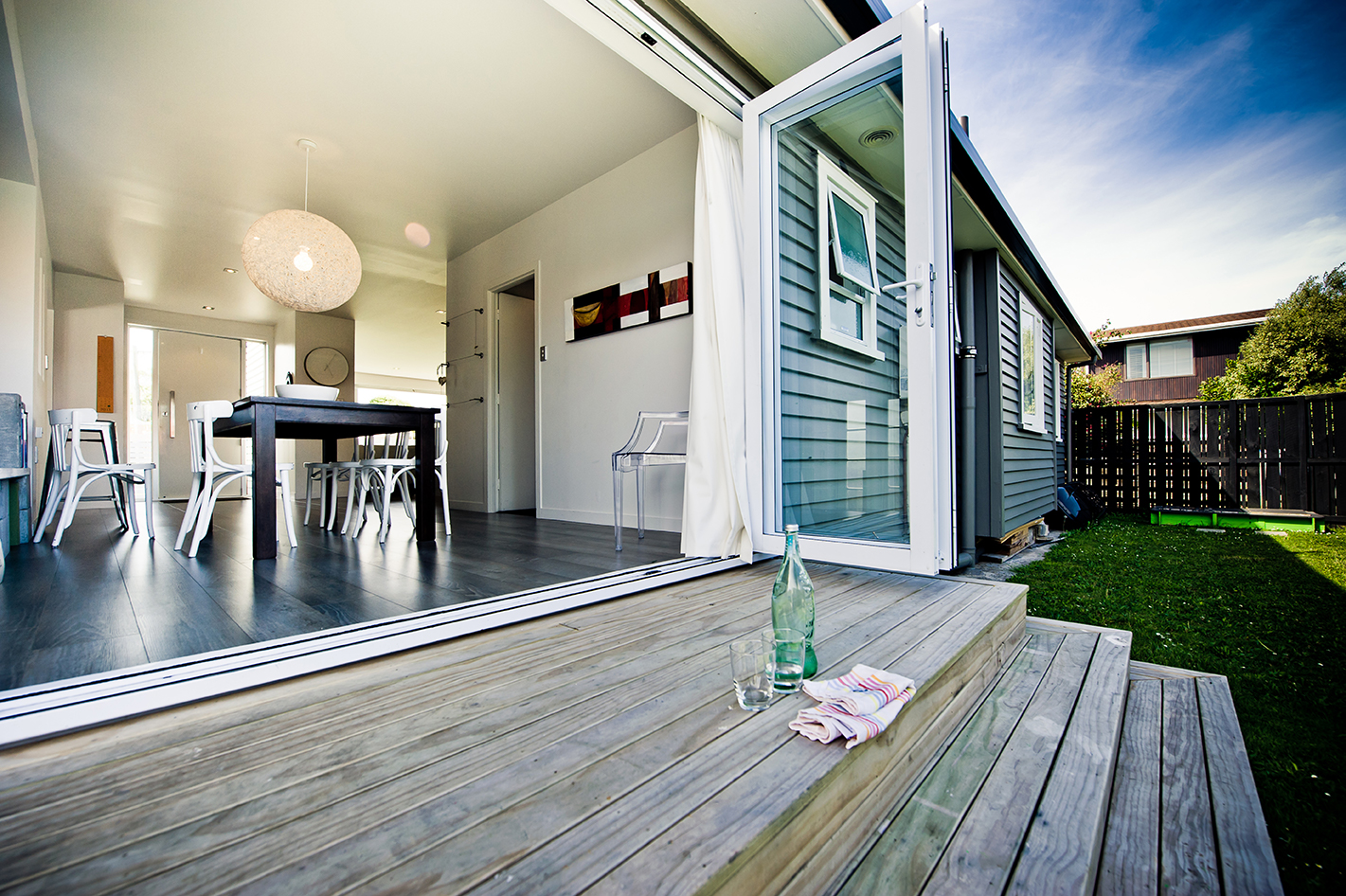 What are some classic exterior design trends that are growing?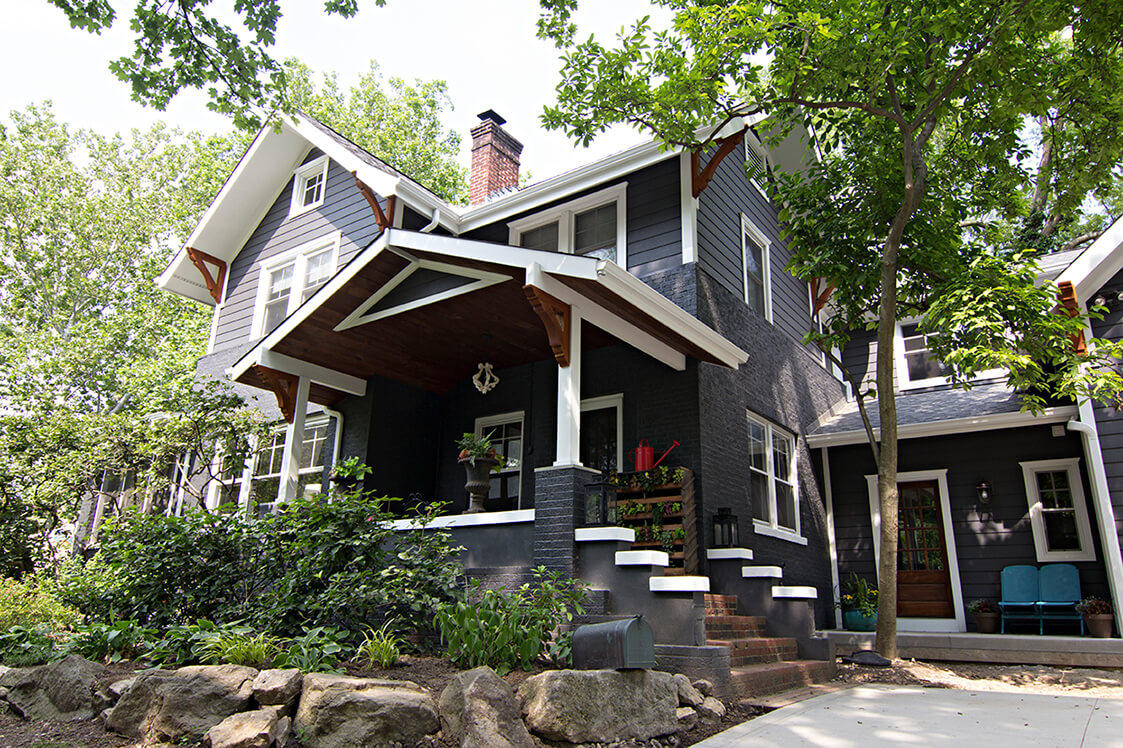 It's no secret that homeowners are spending more time outdoors while at home. And it looks like the porch and patio trend is here to stay. According to the U.S. Census Characteristics of New Housing survey, only 46% of new houses completed had a patio in 2010. By 2019, the latest data available, that figure had risen to 60%.
"America's love affair with the front porch continues," shares Tim Bakke. "Designs of covered front porches seem to only be getting larger and more elaborate."
What are you waiting for? The majority of home designs incorporate some kind of front porch. The possibilities are endless: wrap-around, right- or left-corner wrap porches, or even various widths like full-width, three-quarter width, and half-width porches. A front porch offers ample opportunities for creativity, improving outdoor living space and increasing curb appeal.
Are you ready to start designing your home exterior like a pro? Explore all of Royal®'s exterior home products today and get started using Royal®'s suite of free design tools.
Let the home style tips come to you.