Top Exterior Upgrades to Boost Your Curb Appeal in 2023
Dear LiveAbode Readers,
Welcome to our Spring 2023 issue, where we focus the Exterior Refresh. As we enter the warmer months, it's the perfect time to start thinking about how you can update the exterior of your home and create a beautiful outdoor space to enjoy.
In this issue, we bring you a variety of articles that offer helpful tips and insights on everything from planning an exterior remodel to the best visualizers for exterior design. Our experts will guide you through the process of planning an outdoor living space that is both functional and stylish.
With the changing weather, it's important to choose materials and designs that are not only visually appealing but also long-lasting. Our article on low-maintenance options will give you plenty of ideas on how to achieve this.
We hope that this issue will inspire you to take the first step towards creating your dream exterior. From simple updates to complete transformations, there is something for everyone in this issue of LiveAbode.
As always, we welcome your feedback and ideas for future issues. Thank you for your continued support.
Best regards,
The LiveAbode Editorial Team
Top Exterior Upgrades to Boost Your Curb Appeal in 2023
As we head into 2023, it's a great time to start thinking about updating your home's exterior. Not only can a fresh exterior design add value to your home, but it can also enhance curb appeal and make a statement about your personal style. Whether you're considering a major remodel or just want to make a few simple updates, here are some top exterior upgrades to consider.
Siding Replacement: Transform Your Home's Look
If you're looking to make a major impact, consider replacing your home's siding. This upgrade can instantly transform your home's look and provide a clean slate for other exterior updates. With a wide variety of materials and colors to choose from, you can find siding that fits your style and budget. From vinyl siding to composite siding to aluminum siding, the possibilities are endless.
Pro Tip: If you're not sure which siding material is right for you, check out the top exterior design visualizers for 2023.
Building a New Deck: Expand Your Outdoor Living Space
If you're looking to create an outdoor oasis, building a new deck or replacing an old one is a great option. A new deck can provide the perfect space to relax, entertain, and enjoy the beauty of your surroundings. With many customization options available, from decorative inlays to outdoor kitchens, you can create a deck that fits your style and budget. Consider adding built-in seating, a pergola, or a fire pit to make your new deck even more inviting.
Pro Tip: For a low-maintenance option that will retain its beauty over time, consider a composite decking material such as Zuri® Premium Decking.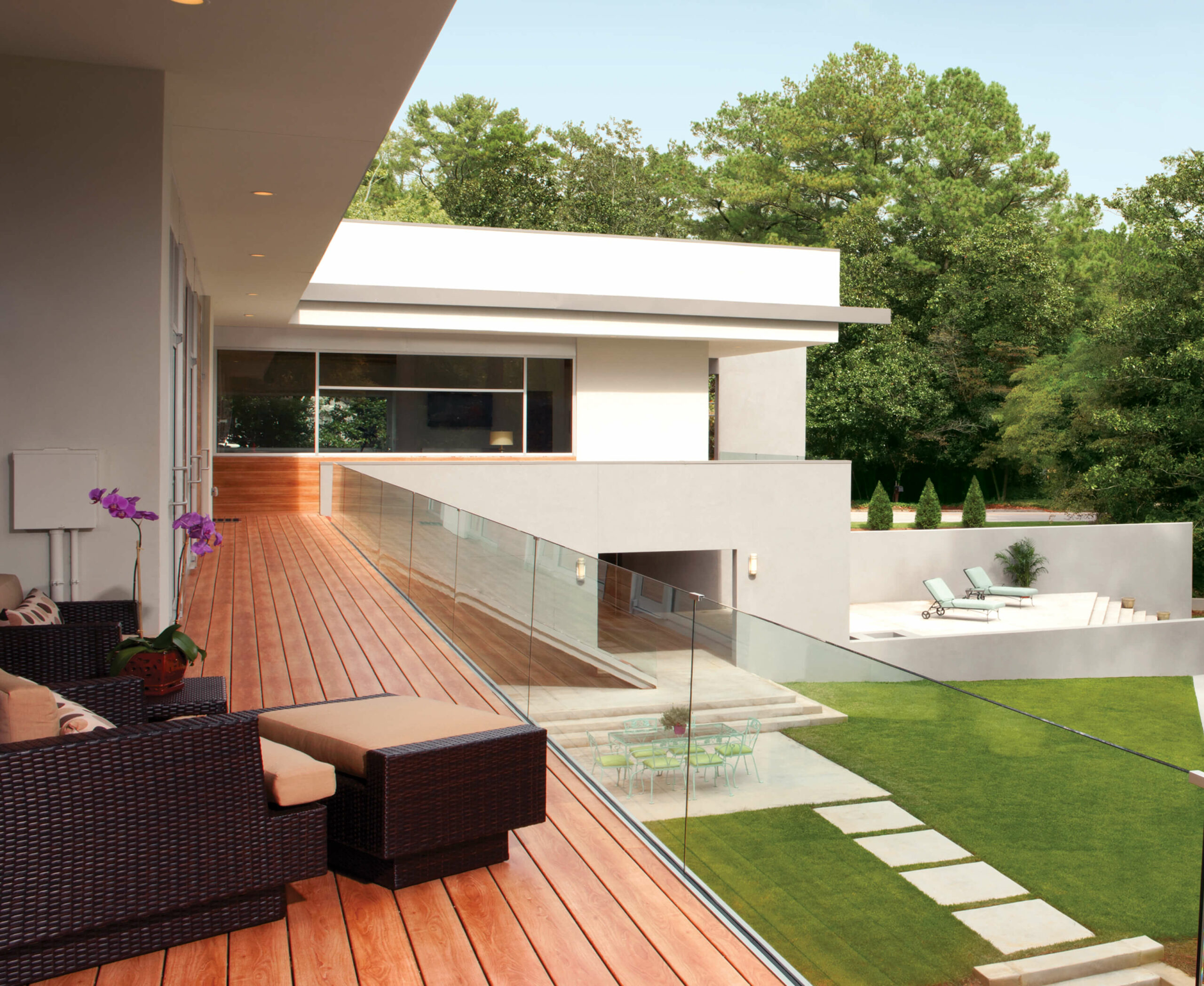 Adding or Replacing Shutters: Classic Charm
Shutters are a classic exterior design element that can add instant charm to your home. If your home already has shutters, consider replacing them with updated styles. If your home doesn't currently have shutters, consider adding them to create a more polished look. With a variety of materials and colors to choose from, you can find shutters that suit your style and budget.
Pro Tip: Shutters aren't just for style; think about function! For example, a beach house could be well served by having Bahama storm shutters to protect the home from winds.
Painting or Replacing the Front Door: Make a Statement
Your front door is one of the first things people notice about your home, so why not make a statement? Painting your front door a bold color can add personality and style to your home's exterior. Alternatively, consider replacing your front door with a new style that better suits your personal taste.
Pro Tip: If you have a classic style home, a red door can have the same effect as a bold red lipstick—the right shade is wearable on practically everyone. Learn more about selecting door colors here.
Adding Column Wraps to Your Porch: Affordable Elegance
Column wraps are an easy and affordable way to add instant elegance to your porch or entryway. These durable and decorative PVC covers fit over your existing columns or poles, instantly transforming the look of your front porch. They can be painted to match your exterior palette, and since they are made of PVC, they are resistant to pests, moisture and weather damage.
Pro Tip: You don't need to hire a professional contractor to add column wraps, check out our handy DIY tutorial for Column Wrap Installation.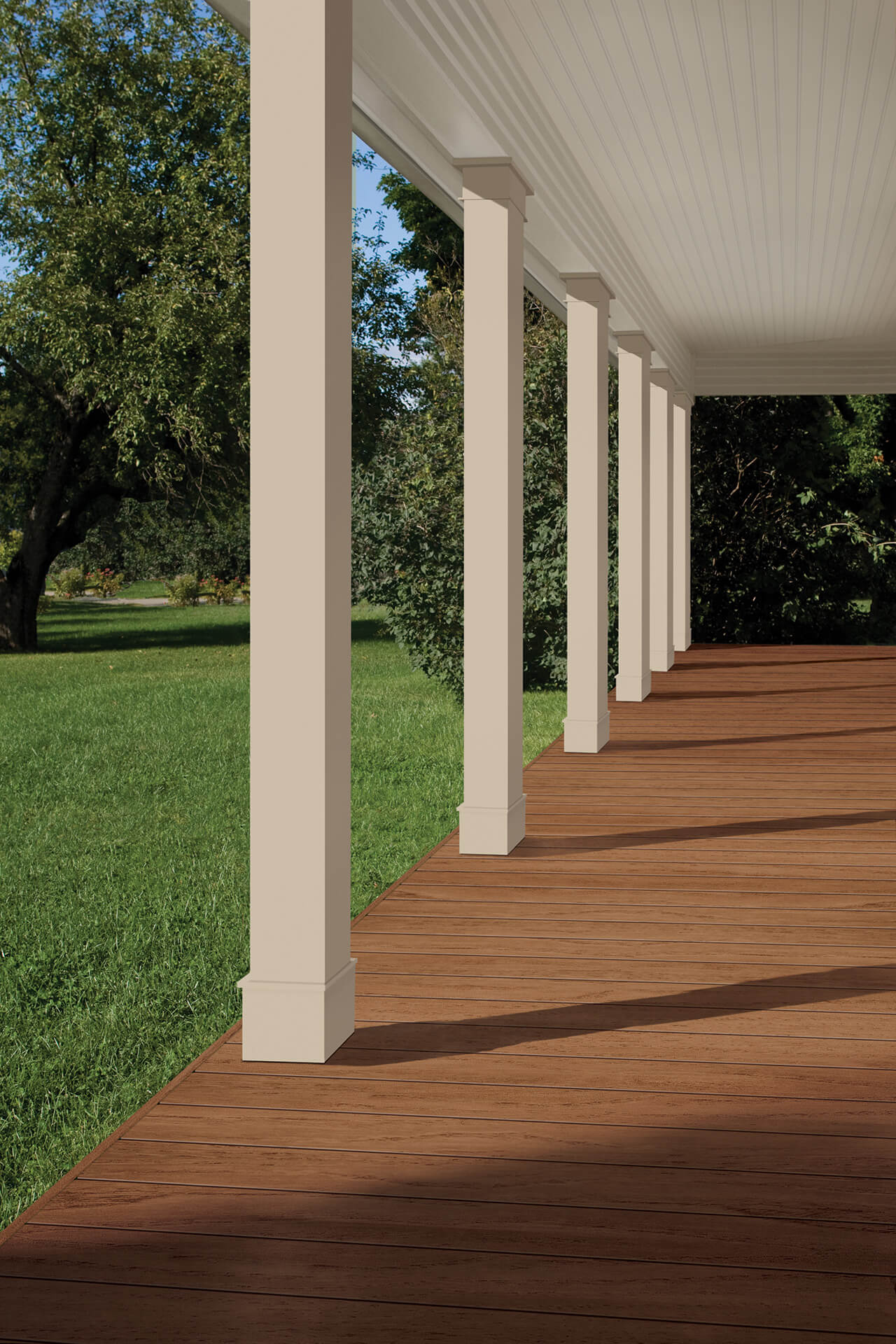 No matter what your budget or style preferences, there are plenty of ways to update your home's exterior for 2023. From major remodels like siding replacement and building a new deck to smaller upgrades like updating trim and adding shutters, these changes can enhance curb appeal and make your home feel like new. So why wait? Start planning your exterior upgrade today and enjoy a fresh, updated look for your home this year.
Let the home style tips come to you.