Give Your Outdoor Rooms a Cozy Winter Makeover
While it's certainly true that in some regions sitting on the patio in midwinter is not realistic, for those who live in mild climates there's no reason outdoor rooms must sit unused for several months. To tempt yourself onto the porch or patio, even when there's a nip in the air, give your outdoor rooms a wintery makeover that boosts warmth and coziness.
Insulate with Rugs and Curtains.
On a covered porch, adding an indoor-outdoor rug and thick outdoor curtains can help keep drafts at bay and provides a base layer of textiles to tempt you outdoors. Neutral colors for more permanent pieces look appropriate year-round and can be spiced up come spring with fresh pillows.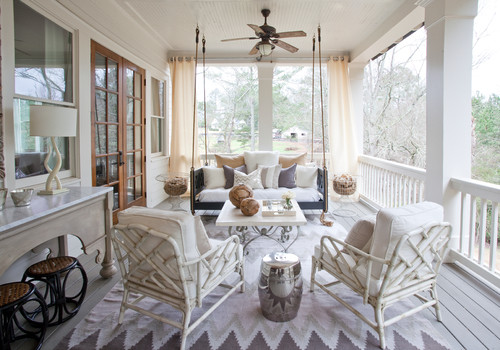 Photo by Lindsey Hene Interiors – Look for traditional porch design inspiration
Pile on the Pillows.
The more, the warmer! Pillows not only look cozy; they make outdoor benches more comfortable and keep you warmer by cuddling you while you sit. For the cooler months, choose pillows in warm neutrals, like cream, cocoa and gold, in a rich range of textures. If your seating area is exposed to the elements, keep a storage bench nearby and stow pillows there between uses.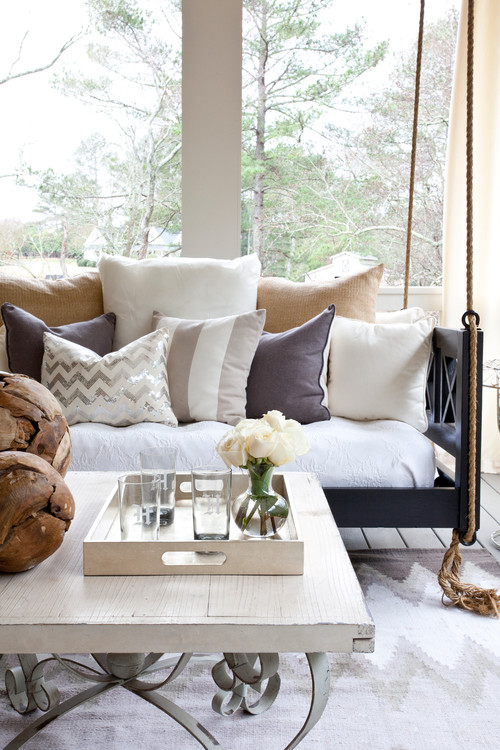 Photo by Lindsey Hene Interiors – Look for transitional porch pictures
Make Seats Toasty Warm.
To make an outdoor dining area more inviting in cool weather, store a pile of soft and fluffy fake sheepskins indoors, and drape them over seats when you're ready to sit down. If your chairs have cushions, consider keeping them indoors (even if your dining area is covered) so they stay warm until you're ready to use them.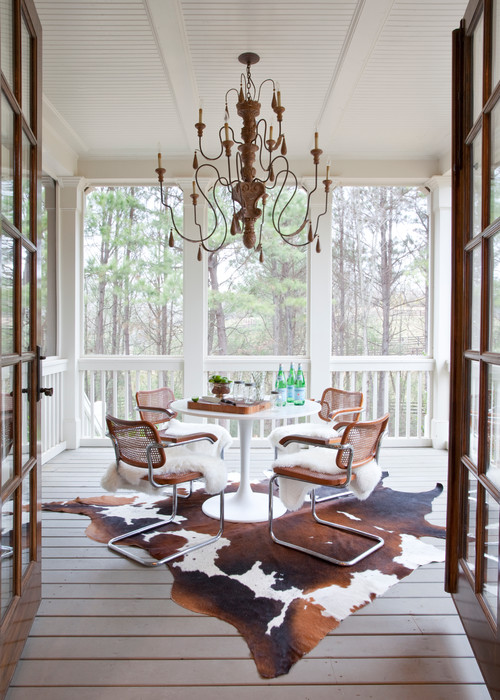 Photo by Lindsey Hene Interiors – More traditional porch ideas
Nestle Up To A Wall.
If you would like to use your patio more often in winter, it helps to use a wall as a windbreak. Pull seating close to the side of your house or nestle it next to a garden wall to gain protection from the wind.
Light A Fire.
Consider adding an outdoor fireplace — the appeal of gathering around a warm blaze on a winter evening is undeniable. And it doesn't need to be built in; a simple fire bowl can work just as well.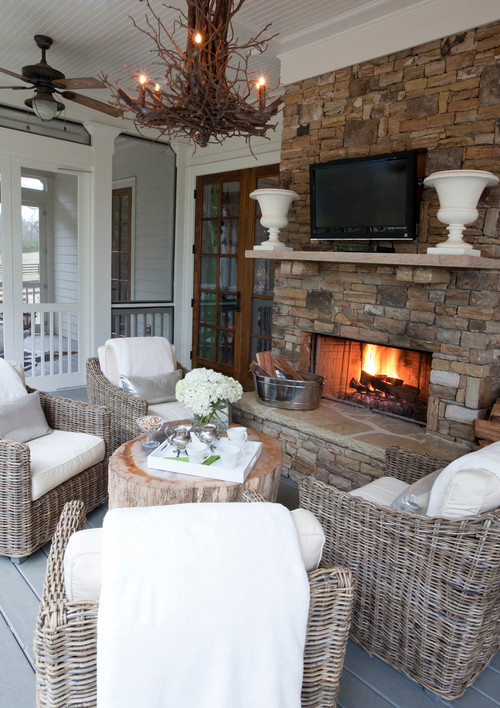 Photo by Lindsey Hene Interiors – More transitional porch ideas
Keep Extra Blankets On Hand.
Neatly folded throws placed over the back of each chair look welcoming and make it easy to wrap up when you feel a chill. Store extra blankets rolled up in a basket near the door, and a warming throw will never be too far away.
Grow A Windbreak.
While this isn't something that can be accomplished in a single season, if you are willing to wait, growing a living wind barrier is both effective and ecofriendly. Speak with someone at a local nursery to find out which vines or shrubs will work well in your area and stay green throughout the winter.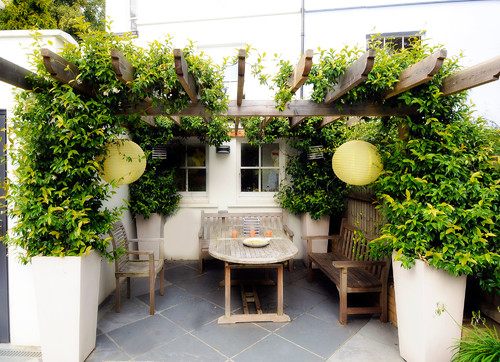 Photo by Kate Eyre Garden Design – Browse rustic patio photos
Roll Down The Shades.
On a covered porch, adding simple shades that can be pulled all the way down provides some buffer from the wind. Just be sure to tie them down at the bottom, or they will flap all over the place at the first breeze.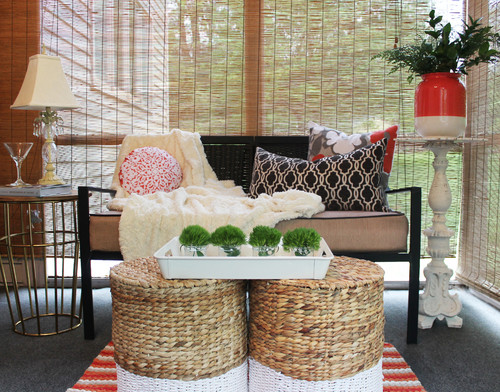 Photo by Design Elements – More eclectic porch photos
Make the Lighting Magical.
During the shorter days of winter, more light is always welcome — and a well-lit patio or porch is so much more inviting. If you have a pergola or another overhead structure, twining strands of white lights through it is a wonderful way to bring your outdoor space to life at night.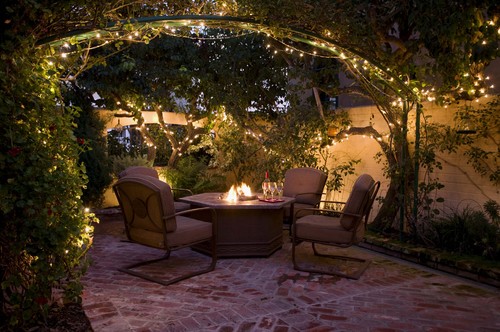 Photo by Peg Berens Interior Design LLC – More traditional patio photos
Houzz Related Links:
Let the home style tips come to you.