From Boring Garage to Dream Backyard Cabana
Details:
Contractor: Luke Reynolds of Reynolds Contracting
Location: Manahawkin, New Jersey
Project: Converted Garage Cabana
Square Footage: 900 sq.ft.
Luke Reynolds from Reynolds Contracting took "outdoor living" to a whole new level, turning an underutilized garage into the backyard cabana of our dreams! While many are planning their summer trips, these Reynolds Contracting clients won't be packing their bags any time soon. Using Westlake Royal™ PVC trim, Reynolds was able to create an inviting area where his clients can relax and enjoy the great outdoors all year round.
Which Westlake Royal products do you typically work with?
For the past 5 years, we've primarily used Westlake Royal's PVC 1x material. Other Westlake Royal Building products we've used over the years include shiplap, v-groove, and sheet goods for a number of other projects.
Why do you like working with Royal products?
On the 1x material, all edges are encapsulated up to 1×12, so when being used as a second story deck fascia, the visible bottom edge of the fascia does not turn black and collect dirt like the other PVC products do. I also like the color and sheen of the product compared to other PVC products that we've worked with.
What's your best tip for working with Royal PVC trim & mouldings on your projects?
When using 1x material up to 1×12, the edges are factory finished and encapsulated to provide the same finish as the face of the material. This is unique compared to other PVC products that have an open cell exposed edge, so my tip is to plan a layout using full width pieces for trims, not rips, so the entire product is encapsulated and doesn't need to be painted and won't get dirty over time.
Do you have a favorite design element in this converted garage?
The power drop down screens and hurricane shutters that close down the openings. They turn the open air experience into an indoor escape, rain or shine! Another favorite would be the burned cedar collar ties.
What was the client's reaction to this project?

Any advice for homeowners who want to do something similar? Where should they start?
The best place to start is with a 3D design. This cabana developed a ton in the design phase to become what you see here. The 3D design could help if a client suggests big changes in the build. The changes can be visualized in 3D, which allows everyone to be on the same page and could save everyone some money.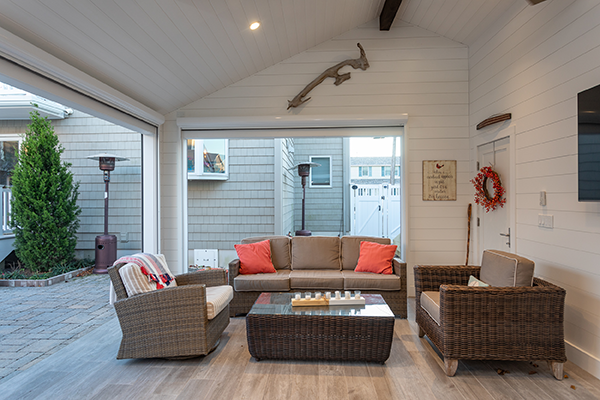 Have you had more requests for creative "outdoor space renovations" since we last spoke?
Absolutely! We have some amazing projects on the board for this season.
To see more of Luke's projects, and to keep up with his upcoming creative works, give him a follow on Instagram @reynoldslbi. For more information on Reynolds Contracting please visit: www.reynoldslandscaping.com.
Let the home style tips come to you.