10 Tips for a Magical Party on the Patio
Whether it's a leisurely weekend brunch on the patio or cocktail hour in the garden, when the weather is delightful, not much can top gathering outdoors with good company. Make your alfresco fetes as easy and comfortable as possible — for you and your guests — with these 10 essential tips.
1. Use trays and baskets to tote goods.
Make things easier on yourself by loading up trays with sturdy handles to carry dishes and food to your outdoor dining area. Fill up a basket or tote bag with linens, flatware, sunscreen and anything else you need to schlep.
After the meal, take a cue from restaurants and set up a "bus your dishes" area on a tray, which you can then grab and take back inside.
2.Keep seating dry
If you have the space to store outdoor pillows indoors, do so — especially if there's a chance of rain soaking everything before your fete! Sitting among fresh, dry pillows will get your outdoor shindig off on the right note. If there was a big rainfall before your gathering, you can still remedy the wet seat situation. Dry off seats by hand using towels first, then toss thick woolen blankets or sheepskins over damp benches before guests take a seat.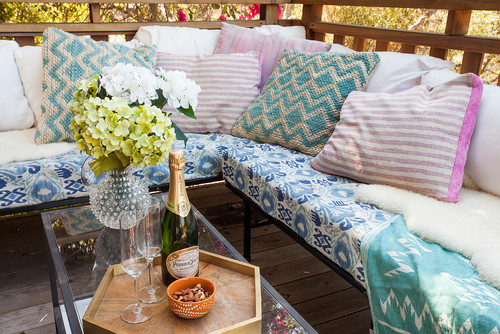 3. Provide Shade
A sunny day seems like the ideal time to host a party outdoors — until people start getting sunburned! Keep your guests (and yourself) cool and comfortable by providing ample shade during daytime events. A shade sail is a good option for covering a patio, while free-standing umbrellas make great flexible shade cover in a larger yard. And if you have a pergola, you can make a DIY shade cover by draping canvas drop cloths from the hardware store over the top. Use tablecloth weights to keep the cloths from lifting off in a breeze.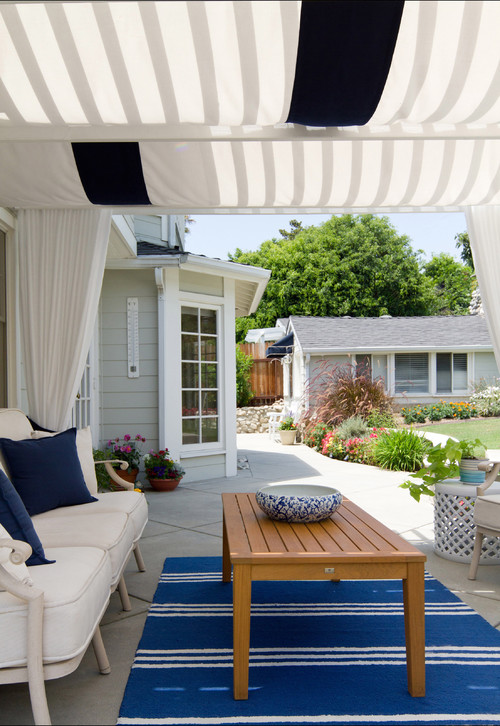 4. Set up a portable party station
A bar cart on wheels is perfect for this since you can wheel it right where you need it. If you're using a stationary table, keeping items on trays will help in case you need to bring things indoors in a hurry (hello, rain clouds). Depending on the type of outdoor gathering you're hosting, your cart may include cocktail fixings, refreshing lemon water, extra beach towels and sunscreen or an assortment of nibbles.
5. Illuminate steps for safety
For an evening gathering, any change in footing in the outdoor area should be well-lit. If you don't have landscape lighting installed, a simple fix is to position a lantern on each step — light the candles (or turn on battery-operated versions) before guests arrive.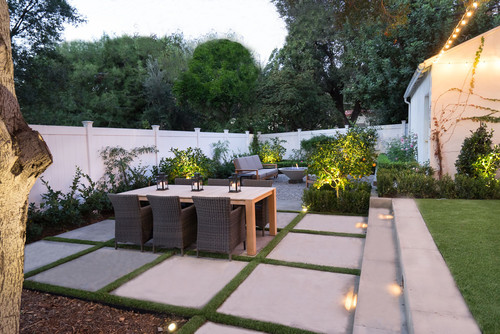 6.Create conversation zones.
If you're expecting a big crowd, having several small seating areas will help your guests flow more comfortably through the space. If you're short on outdoor seating, you can always bring out a few dining chairs or benches from inside, and supplement with folding or camping chairs, ottomans, stools and poufs.
7.Keep mosquitoes at bay.
Be sure to dump any standing water around your property in the weeks leading up to your party so that mosquitoes don't breed in it. If possible, set out a few fans on the evening of the party to help keep the pests away from your guests (mosquitoes tend to stay out of the wind). Otherwise, you can still provide your guests with mosquito-repellant wipes.
8.Create a magical ambience with night lighting
One of the quickest ways to dramatically change the mood of your outdoor space is with lighting. Cafe lights strung overhead, hefty lanterns lining the paths, tea lights atop the tables — use any or all of these ideas to bring a charming ambience to your evening outdoor gathering.
9.Keep guests cozy with throws
When the sun dips, the temperature can too — even in summer. Make sure your guests are comfortable into the night by draping a cozy throw blanket over each chair.
10.Test technology in advance.
If you plan on playing music outdoors through a new speaker system, or showing a film with your new backyard movie projector, be sure to do a test run to avoid snafus.
Tell us: What's your favorite way to entertain outdoors?
Liens avec des articles de Houzz (en anglais seulement) :
Houzz Related Links:
Let the home style tips come to you.