What's Trending: Starry Night Decks
Contributed by in-lite
Having an outdoor space that you enjoy is important. The goal shouldn't be to have a backyard you tolerate, but to create an extension of your home that feels warm and comfortable. Whether you are building a new deck or looking to update an existing one, outdoor lighting is going to play a key role in creating the atmosphere you are looking for. Keep reading for inspiration to incorporate 2020's biggest outdoor lighting trend into your backyard: starry night decks.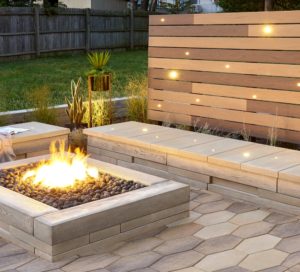 Before we jump in, remember that lighting is more than just for safety. It's more than keeping intruders away and preventing your family from tripping on steps. It's about creating a feeling. It's about creating a space that you can enjoy well into the night.
And landscape lighting isn't what it used to be! In fact, it's easy and safe to install (you don't need to be an electrician) and modern designs will help you illuminate your space in style.
Starry Night Decks
If you haven't seen these already, you need to. By placing small recessed lights in a random design, you can create the illusion of a starry night right in your deck (or anywhere in your outdoor space).
However, if you're going to invest in lights going directly into your deck boards, we recommend using high quality fixtures. Cheap big-box store lights won't last, and they'll have you regretting that you ever installed them. Their price tag might be attractive, but after replacing them time and time again, your wallet won't be too happy.
The beauty of recessed lighting is that you can be as creative as you want. Will you spread your lights out in a measured out, geometrical pattern like this one?
Will you combine big and small lights to really enhance that starry feeling?
Will you extend your lights up the wall or off the deck to create a feeling of the stars spilling out?
Will you create an overhead structure and recreate the little dipper so you can see constellations even when it's cloudy?
There are endless possibilities!
3D design services can help you design your space if you want a professional's opinion or simply chatting with a friendly customer experience representative can help point you in the right direction.
Will you create a space that you love this year?
To shop high quality lighting, visit in-sider.com, and to shop high quality decking, visit https://www.royalbuildingproducts.com.
Let the home style tips come to you.