Midcentury informality revisited
The Ranch-style home was born in sunny California and hit its peak of popularity in the postwar 1950s. Easy to build, this style was a response to the relatively low cost of suburban land and the desire to live the good life in a sprawling backyard. Back then, nine out of every 10 homes were ranches.
While not nearly as ubiquitous today, Ranch-style homes are experiencing a revival, particularly among first-time homebuyers attracted to their wide-open single-level floorplans and versatile design possibilities.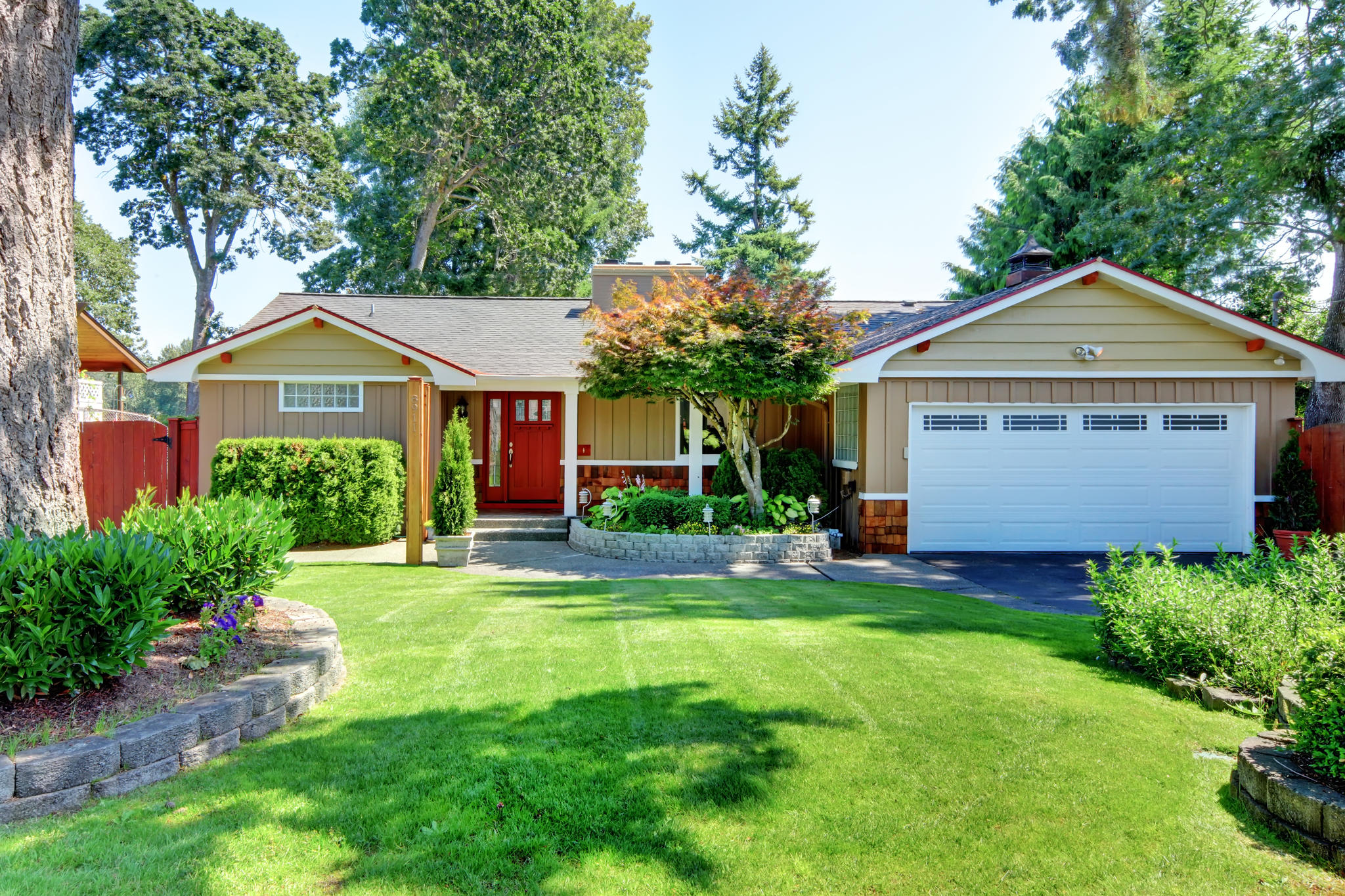 How to recognize a Ranch.
Low slung, informal and uniquely American, Ranch-style homes come in many design variations. But they do share these traits:
Life without stairs. You'll find Ranches expanded into split-levels around the country, but the classic ones live up to their practical, unassuming nature and are built on a single level.
Wide open charm. Some Ranch-style homes come in U-shapes, others in asymmetrical L-shapes. What they all have in common are open spaces that enhance the ease of adding on rooms, getting from room to room, and connecting the indoors to the outdoors.
Fun out back. Rather than delegating its sprawl to a showy front porch, ranches relegate barbecuing, get-togethers and spontaneous games of tag to the backyard. Sliding glass doors in the rear make it easier to get there.
Garage on the side. The wide-ranging, horizontal profile of ranch-style homes makes them ideally suited for accommodating attached two-car garages or carports.
From the top. Classic Ranches are further differentiated by their low-profile gable roofs with sheltering eaves.
How to dress a Ranch.
Siding
Ranch-style homes easily accommodate a diversity of exterior materials. Here's how to put some of them together:
Give your Ranch a "farm" feel by introducing board & batten siding as a complementary element to stone. Or make board & batten the hero.
 If your Ranch is wrapped in stucco, add eye-catching boldness with multi-colored brick around the entrance.
 Introduce rustic elegance by using stone facing to break up long runs of clapboard and to complement contrasting shake & shingle siding at the gables.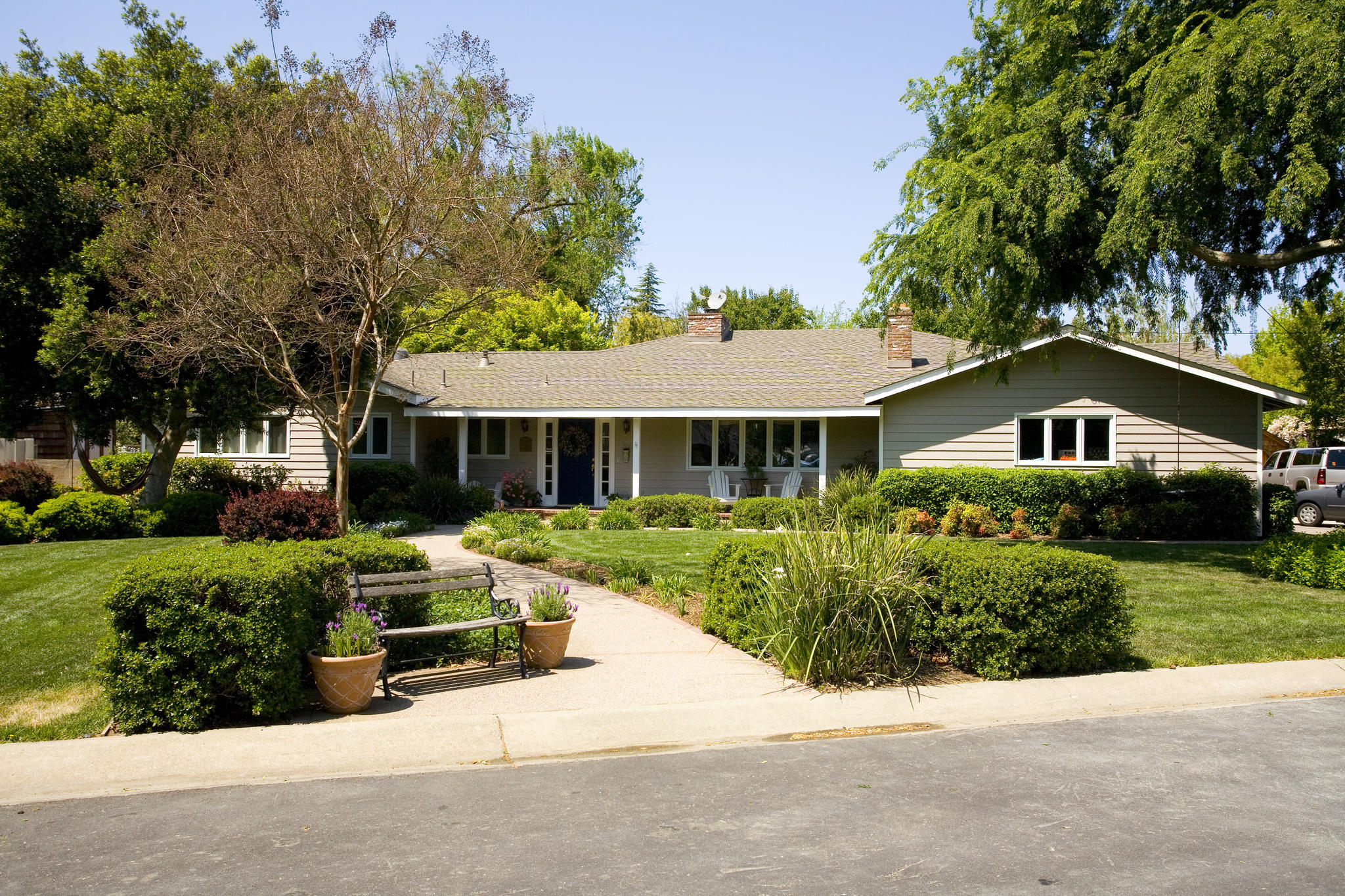 Color and Trim
When you're cranking up the charisma of a Ranch home exterior, remember that this home style is highly adaptable. There are a range of colors and trim styles that bring it to life while maintaining its informal modesty.
 Work bold-but-tasteful contrasts into soothing color schemes. Add instant curb appeal by pairing black-trimmed doors with a white-painted exterior or a sky-blue door and window trim against a beige exterior.
Cheer up more expansive ranch styles by pairing light, refreshing pale green siding with pure white trim in the windows and eaves. Use darker accents in the doors and window shutters.
 Make the most of contrasting neutrals. For example, you can combine light beige on the main part of the exterior with dark brown door, window and garage trim.

Landscaping
Applying exterior trim and color isn't the only way to accent a ranch home. Use landscaping to frame and embellish, rather than cover up. Choose low-growing plants and shrubs, and narrow trees that add personality and privacy without dominating your home's profile.
Create symmetry by lining concrete paths with hedgerows. Choose shrubs that blend and grow well with a variety of landscaping, resist disease and take their sweet time to grow. Examples include boxwood, lavender and bushy evergreens, such as laurustinus.
Arrange colorful sculptured plants around the perimeter of your home to dress up neutral color schemes and mask unsightly foundations. Rhododendrons, encore azaleas and carissa hollies work well here.
Add a garden and circular path to offset a low-overhanging roof.
Ranch-style homes are experiencing a revival for many reasons, from their simplicity to their relatively easy remodeling possibilities. Use some of the tips in this article to make the most of yours, and share your own ideas with the LiveAbode community.
Let the home style tips come to you.