Designing an Outdoor Kitchen
Outdoor kitchens have become increasingly popular over the years and we don't see that changing any time soon. Whether you're installing a new outdoor kitchen or giving it an update, consider these trends and tips to best enhance the design and functionality of your space.
Trends to Watch
This year's outdoor kitchen trends feature high-quality, specialized appliances that offer maximum functionality.
Grills: Accommodate your cooking style with multiple grills if that suites you best. Grills range from Kamado style, hibachi style, natural gas, propane and dual-fuel options.
Refrigerators & Ice makers: If you plan to use your space for entertaining you'll want these essential conveniences.
Dishwashers: Add a dishwasher or sink to ensure you never have to leave a party early to clean up!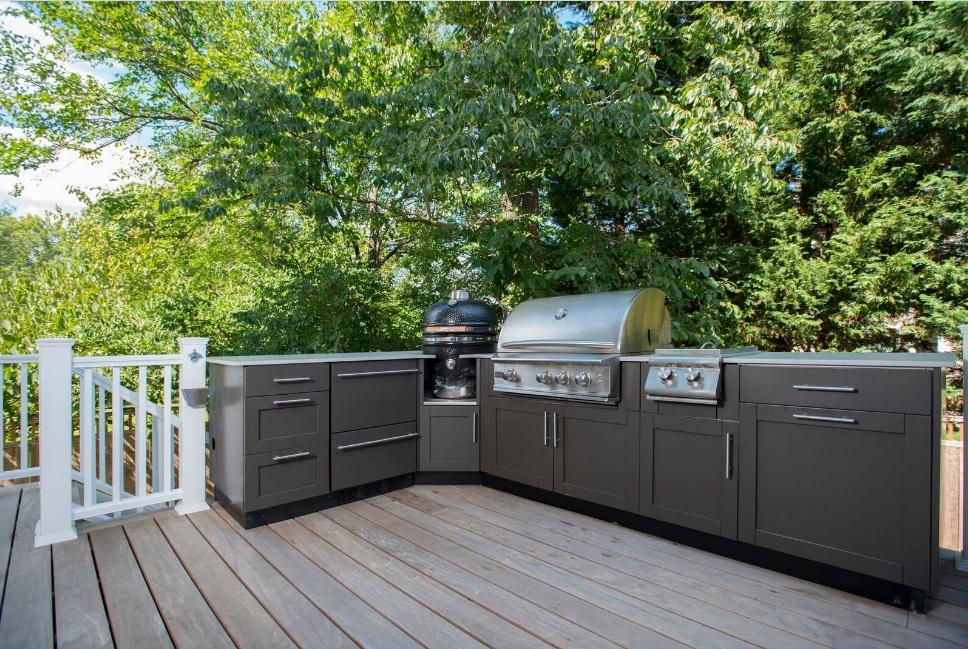 Outdoor Kitchen Essentials
Incorporate the following design elements to create a stylish, functional area where you can match whatever culinary feats you achieve indoors to the outside.
Cabinetry: Durable, high-quality cabinets, such as those from Danver Stainless Outdoor Kitchens or Brown Jordan Outdoor Kitchens, provide functional storage as well as beauty. Select from a variety of door styles in raw stainless steel or custom powder coating for color.
Waste disposal system: Trash pulls integrated into your cabinetry provide convenience and ensure pests and pets don't knock over or get in your garbage. These integrated systems are also the most design minded because they disappear entirely for a seamless, sleek look.
Entertainment: By integrating islands, bars, televisions or sound systems, outdoor kitchens become more than a food-prep area; they become places to entertain, relax and enjoy time with friends and family.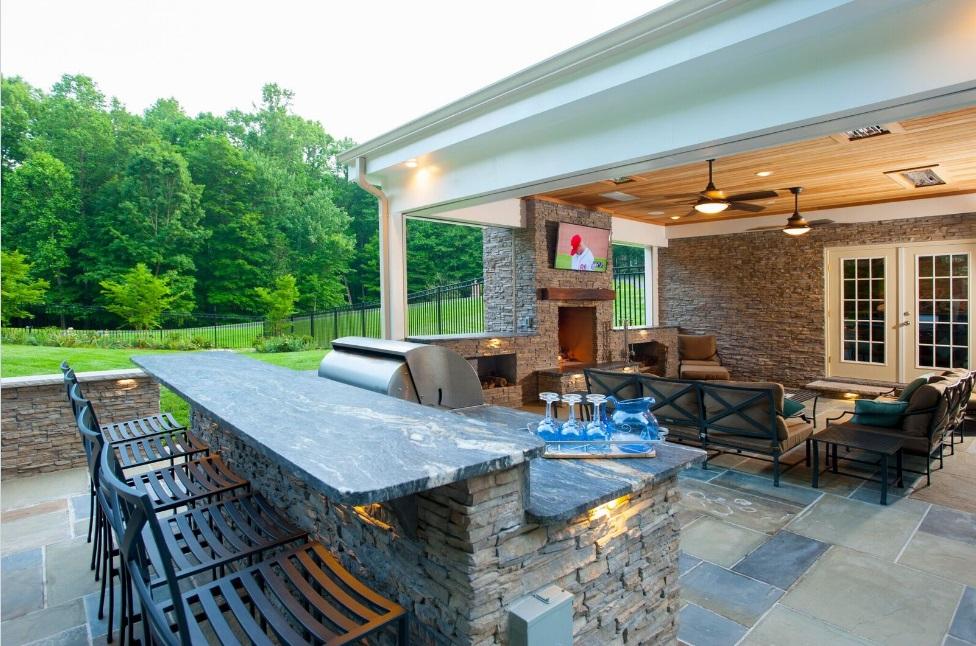 Layout Considerations
Make your outdoor kitchen space functional, beautiful and accessible year-round with these smart layout choices.
Be strategic about heaters: When the weather turns colder, construct a privacy wall to block the wind and then install a heater system like those featured here.
Maximize space: To make the most of your space, add plenty of counter space and consider dual-function areas, such as islands, where people can come together to prepare meals.
Don't forget lighting: Make sure your whole kitchen has adequate exterior lighting for food-prep safety and ambiance. You'll also need it when it gets dark earlier in the winter.
Post written by Design Builders, Inc., a home improvement contractor in the Washington, D.C. metro area.
Let the home style tips come to you.