6 Tips for Designing Your Dream Deck
Designing your dream deck is always an exciting prospect, but with outdoor living spaces becoming increasingly complex, as well as all the latest trends of 2019 to consider, it can definitely feel a bit daunting.
Before putting down a single deck board or picking out any outdoor kitchen amenity, the first task is to take stock of exactly how you want to use this outdoor living area. Think through what's important for your family, and start brainstorming features that suit your lifestyle. To help you create something enduring, beautiful, practical, and personal, here are six things to keep in mind when putting together your dream space.
1. Complement the Home's Interior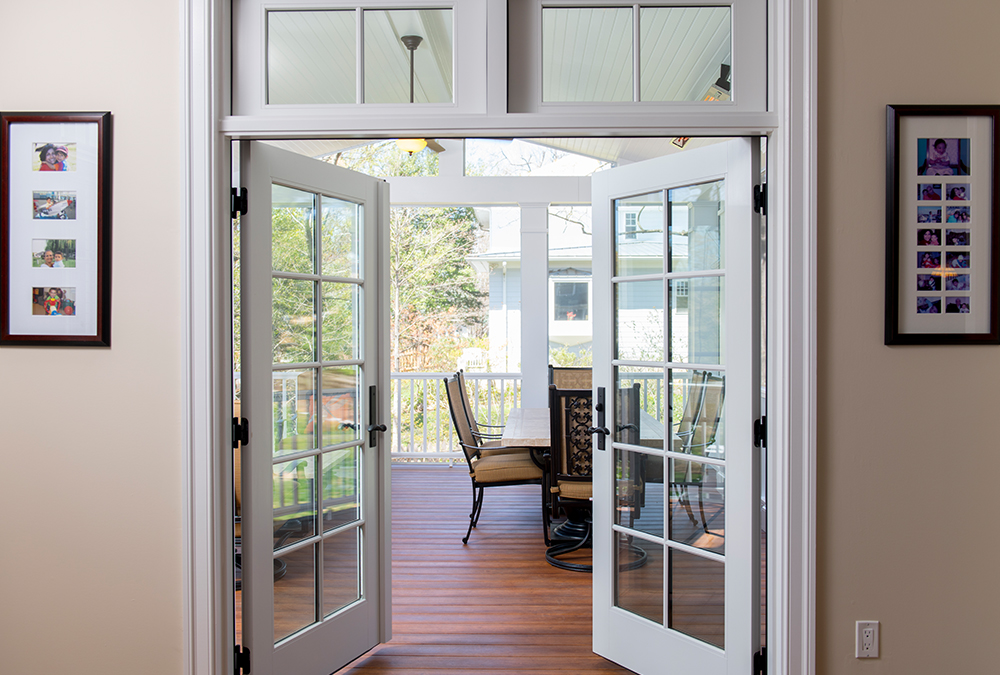 Think of your dream deck as an extension of the main house. When designed with care and attention, this outdoor living space can be just as comfortable, beautiful, and functional as anything you've created indoors.
Be especially aware of what features you lack in the main house that would make sense outside. For example, say you're an avid cook, and you've always wanted a pizza oven, an outdoor kitchen would be the ideal place to add one. Maybe you're less interested in cooking but want to add a fire feature that's lacking inside. In that case, you have lots of options, including fire pits, fireplaces, or even fire walls.
Pro tip: A fire wall can be done in lieu of railings, especially if you're trying to preserve a view.
2. Extend the Usability of the Area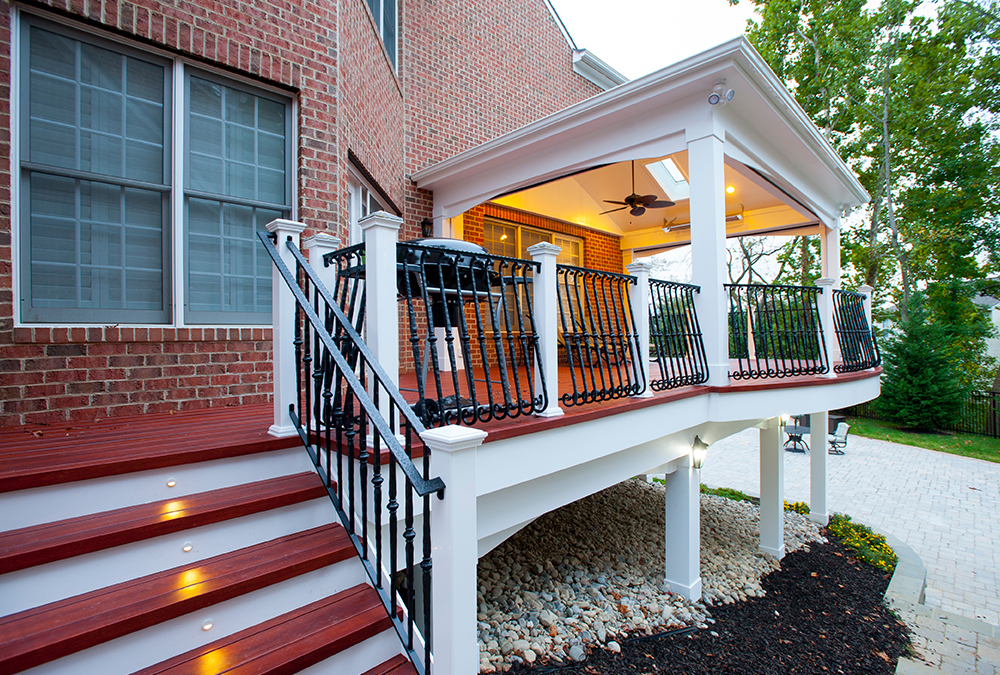 One of the most important things to consider when designing your dream deck in 2019 is how to comfortably use the space year round. A fire feature will certainly help stave off the chill in late autumn and early winter, but if you live in a colder climate, a single fire feature might not be sufficient.
Many homeowners, therefore, consider incorporating multiple heating elements to combat even the coldest nights. Depending on the severity of your climate, you could incorporate any number of the following elements:
Infrared heaters
A structural wind block
Fire feature (fire pit, fireplace, fire wall, and the like)
Roofed structure
Retractable walls (glass or vinyl)
Obviously, these features come with different price points, but if budget is less of a concern, you can almost certainly design a deck that's truly usable year round—no matter how low the temperature drops.
3. Create an Outdoor Living Room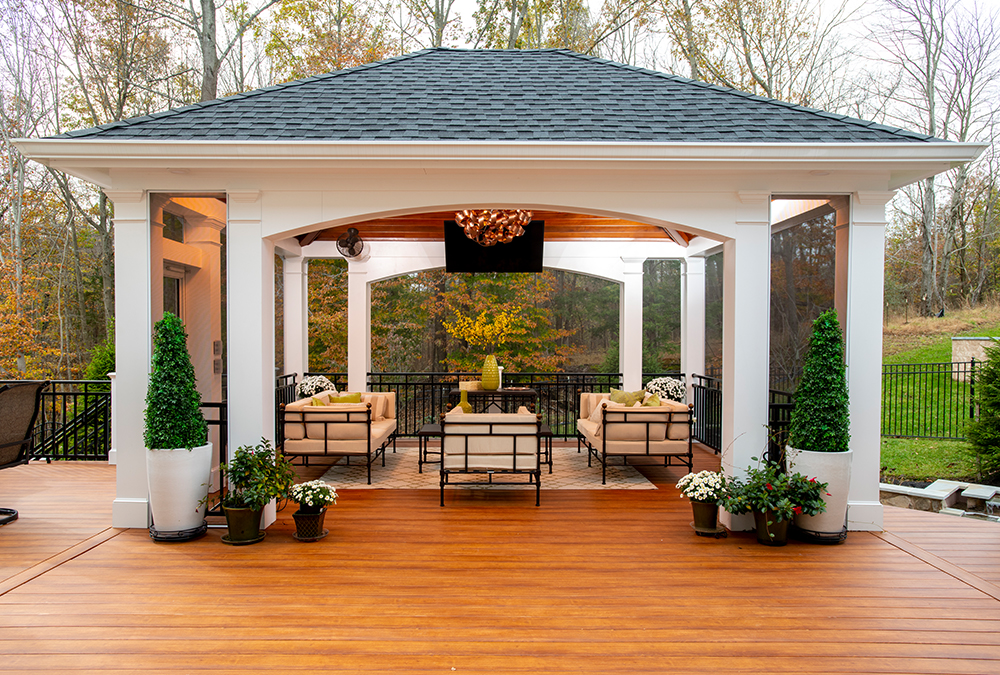 The ideal deck is different for every person, but many people find the best way to maximize the utility of the space is to essentially create an outdoor living room. One trend that supports this is the increasing popularity of televisions in these areas. Design and build firms estimate that over half of last year's projects incorporated an entertainment feature, and that percentage is only projected to go up in 2019.
Just about every deck—no matter the layout or design—can accommodate a television. For example, does your outdoor living space lack a roofed structure? No problem. Simply install a TV lift system that allows the television to pop up from a cabinet, a custom-built structure, or even the deck itself.
Whenever it's not in use, a lift system allows you to simply nest the TV back in its cabinet or structure, offering extra space and a clean, streamlined look for your deck.
4. Consider the Placement of the Outdoor Living Space
One vital element people often forget is thinking through the actual placement of the outdoor living space. Namely, you want to ensure the area is as close to the interior kitchen as possible.
The kitchen is always the center of the party. The farther you're away from that room, the harder it's going to be to shuttle food back and forth, to get plates and other necessities outside, to perform any prep work, and to clean up afterward.
If there's not already a door directly from your kitchen to the outdoor space, consider adapting a window or cutting in a door to make that outdoor living space more accessible and maximally useful.
5. Make Thoughtful Design Considerations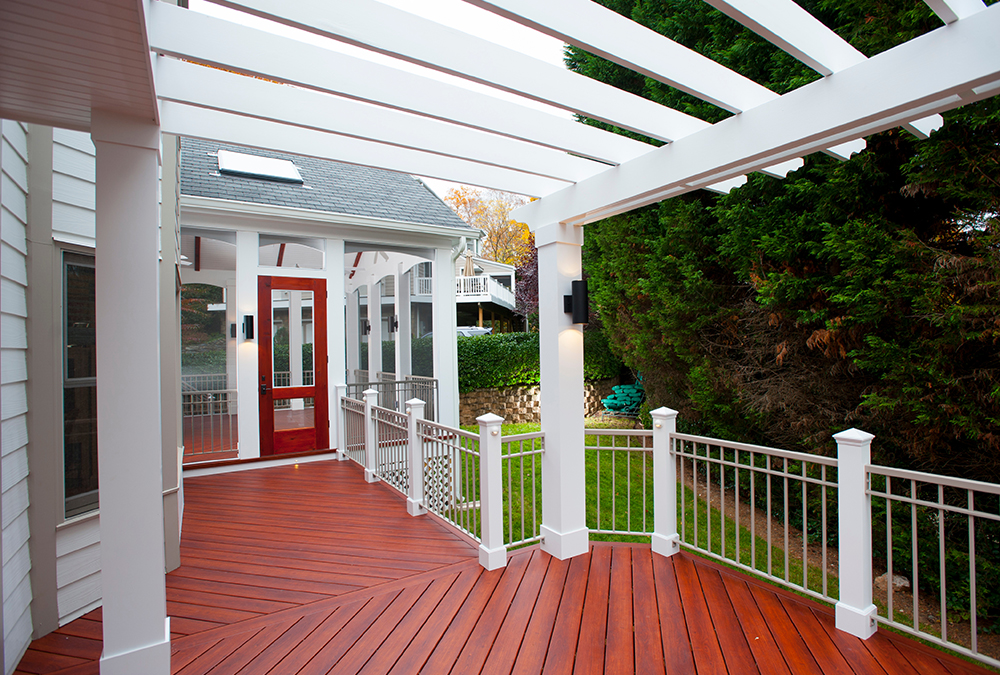 Every detail of your dream deck should be selected with practicality, usability, and aesthetics in mind, and a big part of that is ensuring your deck works in conjunction with other design features of the home. Say, for example, you have specialty landscaping or notable features in your yard. With thoughtful design, you can highlight those features through the outdoor living space.
You can do this directly by incorporating sitting areas in the landscaped yard, or you can do it more subtly by avoiding bulky railings that block views and discourage vistas. Especially if your deck is at or near ground level, consider foregoing rails altogether. They aren't necessary from a safety standpoint, and all they do is block all the beautiful landscaping you've worked so hard to achieve. If your deck is high up and rails are necessary, opt for a clear rail solution in order to keep the surrounding environment fully visible.
6. Maximize Convenience with a Smart Deck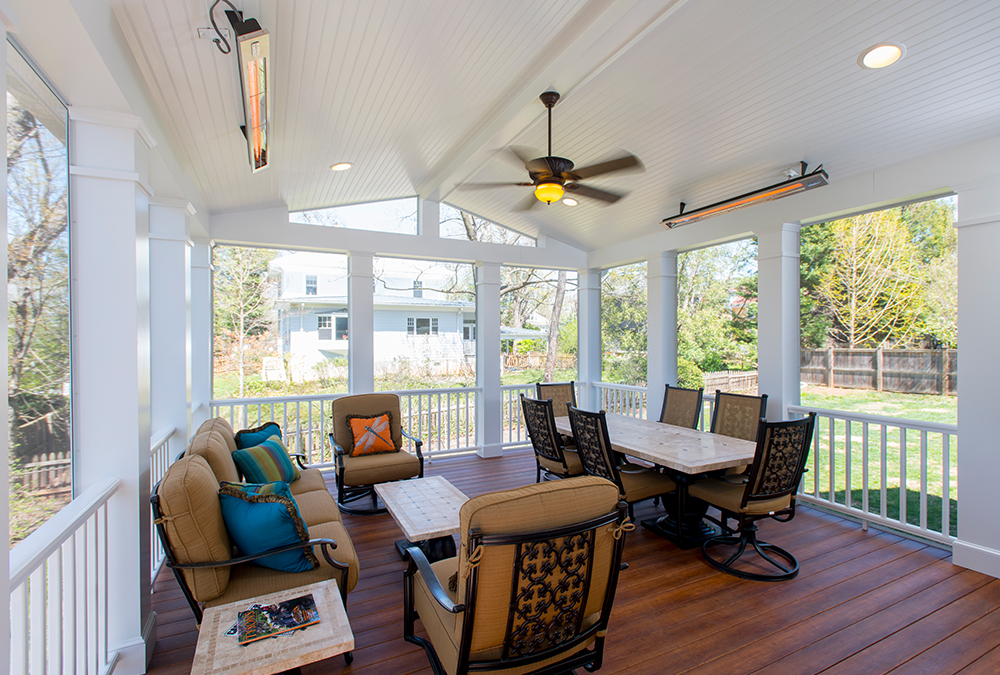 If you have an existing home automation system, incorporating your deck into that platform will be seamless and easy. By making your outdoor living space a smart deck, you can control a number of systems directly from your smartphone or home automation system or through programmable timers. Some of those systems include the following:
Lighting
Music
Television
Heating
Gas features
The convenience of this helps ensure your outdoor square footage is every bit as usable and comfortable as your interior rooms.
If 2019 is finally the year you take the plunge and create your dream deck, you certainly have a lot of options to consider and choices to make. With a bit of forethought and planning, though, you can transform any humdrum deck into a beautiful space you'll love and enjoy for years to come!
Ready to start designing the deck of your dreams? Check out the Zuri decking visualizer to explore design possibilities—from main deck and infill colors to railing options.
Let the home style tips come to you.