Top Decking Trends for 2018
How to Make Your Deck Not Look Like a Deck
 Signs of spring are just around the corner and so is the time to start thinking about your outdoor space. If you're planning to add a new deck or update your current one this year, you'll want to know the latest trends in the marketplace. To spare you the research, we're sharing what we found to be the No. 1 decking design trend of 2018 – making your deck not look like a deck! How you ask? Here are a few ways to incorporate this trend into your deck design this year.
Focus on Floors
Gone are the days of seeing traditional pressure treated decks or basic composite and PVC deck flooring. Today's decks are all about using exotic hardwoods, porcelain tile or realistic, high-end looking deck board such as Zuri® Premium Decking by Royal®.
So, what is it about these flooring types that are all the rage? Exotic hardwoods offer a gorgeous style and longevity (keep in mind they are high maintenance).  Porcelain tile decking is becoming popular due to its ability to reflect heat and offers a non-combustible surface for fire features on top of decks. And Zuri offers the best of both worlds. It has the beauty of exotic hardwood without any of the added maintenance.
Reach for the Railings
Shy away from traditional deck rails that can make your space feel small and "caged in." When possible, use a glass railing system to get an open and airy feel.  If glass railing isn't a good fit for the style of your house, then opt for a powder coated aluminum railing system or a powder coated wrought iron rail system. With dozens of styles and colors to choose from, the posts and balusters on metal systems are much smaller than traditional rails and tend to blend in with the background, which can make a space look much more open.
You will also want to keep in mind that if your deck is low to the ground (about 30 inches off the ground) you don't even need rails. Just use plantings or other edging features to define your perimeter.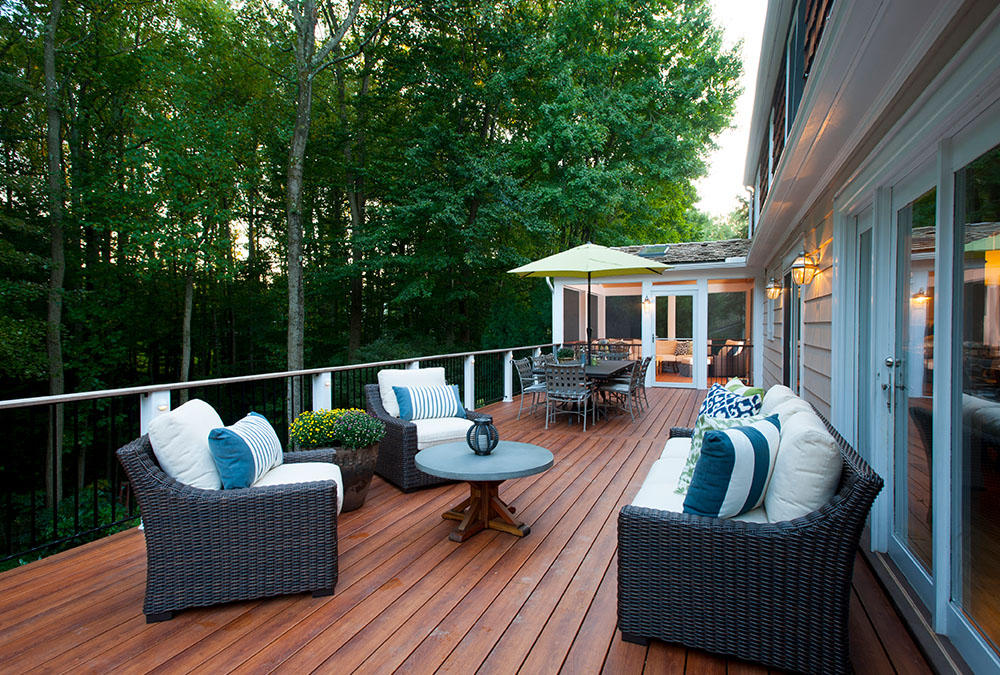 Create a Second Living Space
When you incorporate an outdoor heating system, fire feature and outdoor kitchen add-ons, a deck truly becomes more of a second living space versus the area where you just grill out. So, how can you do this?
If you enjoy entertaining and cooking, then consider adding an outdoor kitchen to your deck with features that complement your indoor kitchen. Some of this year's hottest items to have in an outdoor kitchen include a smoker, beer tap, wine cooler, an EVO grill or a large burner so you can cook your summer favorites, like scallops and crabs.
If you don't have an interior fireplace, consider adding a fire feature on your deck.  Traditional gas or bioethanol units are great options, and with porcelain tiles or stone beneath a natural burning fire pit, you can enjoy your fire feature without worrying about causing any damage.
What do you think about these options to make your deck not look like a traditional deck? Are there any you might incorporate this year?
Let the home style tips come to you.