Entertaining Outdoors in the Cooler Months
Keep the cooler months entertaining.
All around the country, the autumn months are prime time for outdoor entertaining. Shorter days mean more opportunities for twilight dinner parties and happier happy hours. Cooler temps mean more comfortable conversations near cozy fire pits.
Ready to plan the perfect outdoor party? We'll show you how.
Get your outdoor space ready.
Set the tone with lighting.
The sun is setting earlier, so keep the ambience going by adding café string lights to your deck.
INSTALLATION TIP:
You can string the lights using an inexpensive 2 x 2 pole and some cup hooks from the hardware store.

Incorporate the colors of the season.
Revive your deck furniture with dark brown or charcoal gray paint. Complement your new furniture by surrounding it with rich cranberry red, warm brown and zesty orange flowers. Or add new cushions – see our tutorial here on how to make your own– in rich reds or oranges. Either color pairs perfectly with brown or gray. Make the space a destination by adding throw rugs that have flecks of the seasonal colors to tie into the furniture and cushions. As a finishing touch, add pillows in your color palette along with bowls of potpourri and fall flowers – think mums.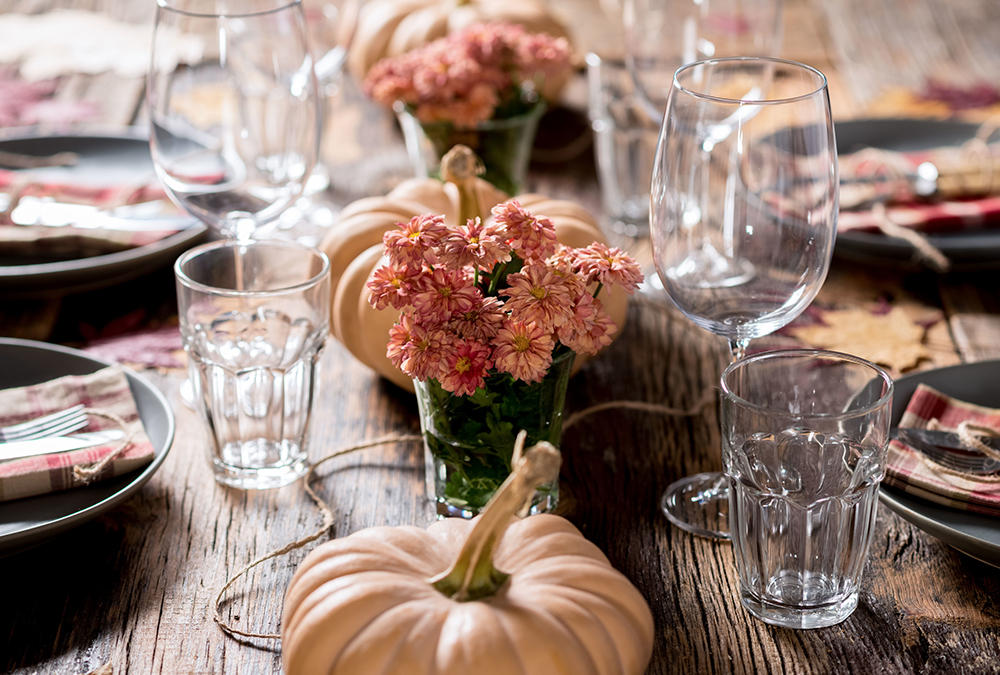 KEEP WARM TIP:
A basket of fuzzy blankets is the perfect accessory to extend your gathering long after the sun goes down. Your guests will appreciate the gesture once they feel a chill in the air.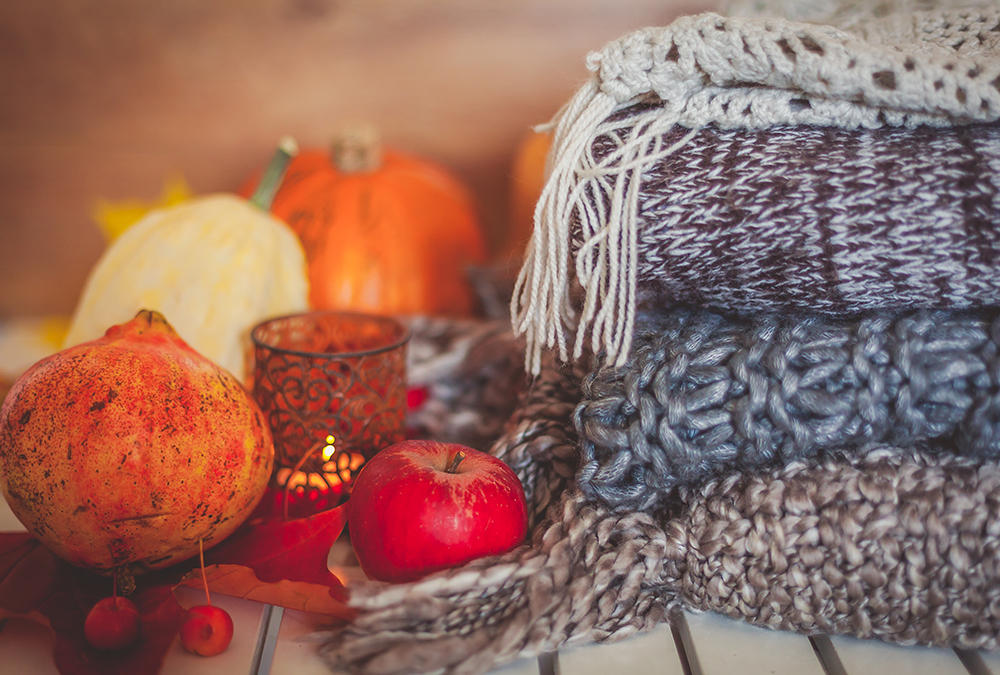 Set the table.
Create your centerpiece.
Even when you're short on time, you can still create a festive focal point with a simple table runner and a pile of pumpkins.
For your table runner, pick up a piece of burlap from your local craft store. Make sure it hangs evenly 6–12 inches off each side of your table.
Then, pick up a batch of tiny pumpkins from your local garden or seed shop. Or find artificial ones at your local home improvement or hobby store. Once your runner is in place, arrange your pumpkins on top of it.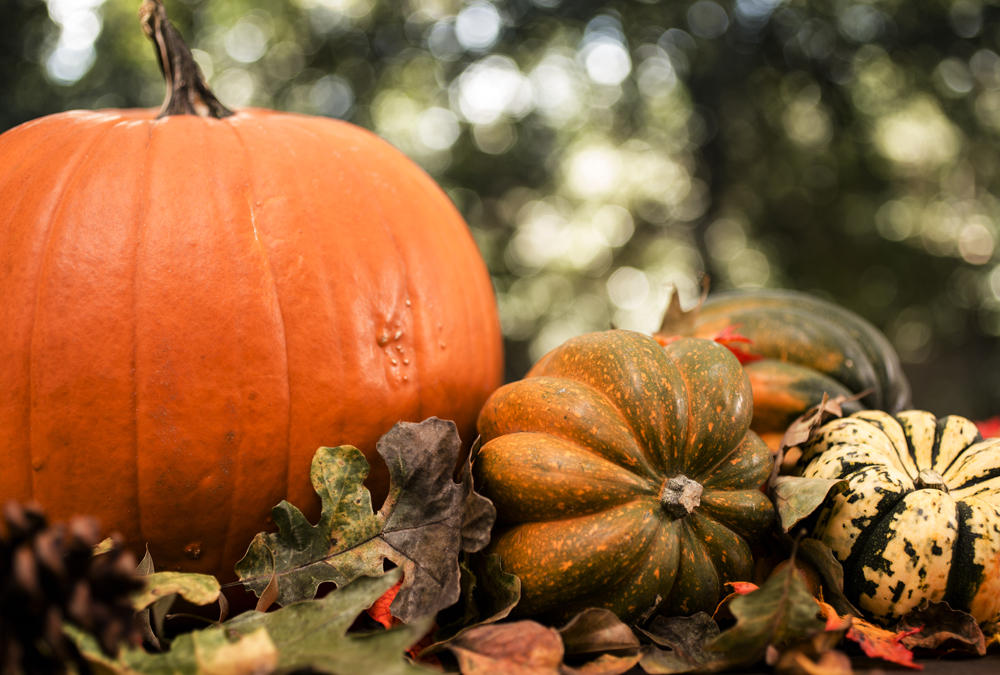 Create your own pumpkin succulent.
Here's another centerpiece idea if you're more of a DIY-er.
What you'll need:
Small pumpkins
Spray adhesive
Glue gun
Moss
Variety of succulent plants
How you'll do it:
Cover the moss with an even layer of spray adhesive.
Place moss on top of the pumpkin, pressing down firmly for a few seconds.
Repeat until all pumpkins are covered.
Using a glue gun, add the succulents to your pumpkins one by one.

Build your go-to menu.
We call these "go-to's" because they always please. They use flavors that match the season and they're simple to prepare.
Apple Cider Mimosas
Apple cider mimosas are sweet, tart and refreshing—and always a fall favorite. Here's how to make them.
Ingredients:
Apple cider
Champagne
Apple slices for garnish
Caramel sauce
Instructions:
Dip your champagne glasses into the caramel sauce to coat the rims
Fill each glass about half to three-quarters full with apple cider
Top with champagne
Practice saying "Cheers!"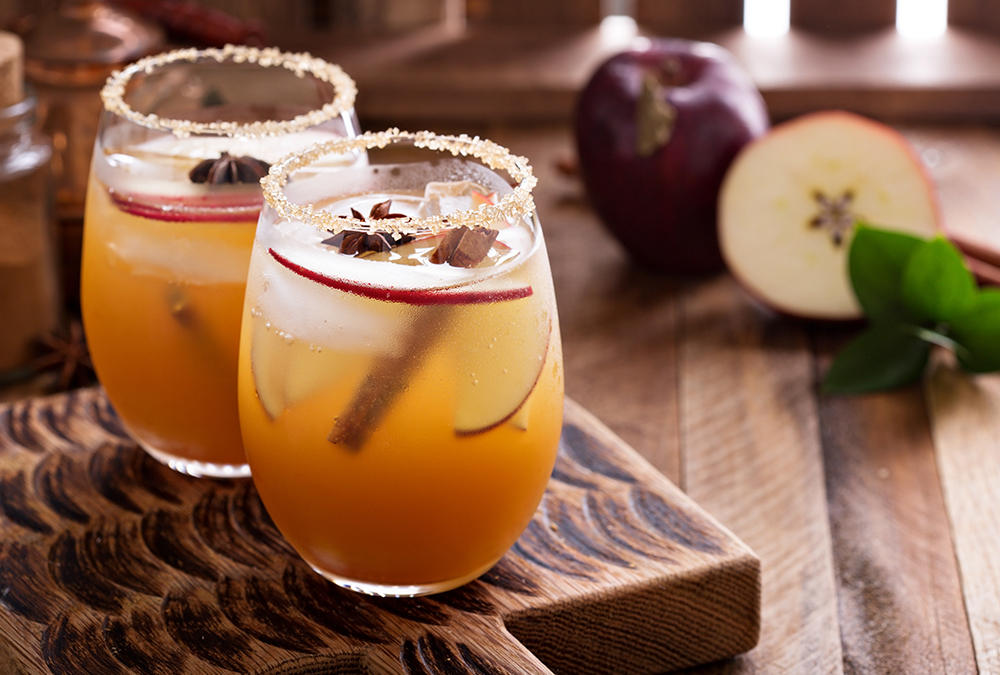 Pot Roast
Whether you're cooking for your family, friends, or the entire block, this is hands down the perfect fall dish.
French Onion Soup
Deep-down warm and flavorful, there's a reason this dish is so popular. Here's a great way to make it.
HOT TIP:
Use a microwaveable hot plate to keep your food at serving temperature for up to an hour. Or serve dishes from a crockpot set to "low."
PLAN B TIP:
Have an indoor backup plan in case of inclement weather. If it's just a drizzle and wind is not an issue, open up a cabana.

Let the home style tips come to you.