Expand your idea of gorgeous with unpainted Celect®.
With a choice of thousands of shades that work on virtually any home style, Celect Cellular Composite Siding redefines design flexibility, letting you pair the color in your heart with the color on your home.
Choose your personal curb appeal.
Celect Canvas Siding gives you thousands of color options, which adds an entire new level of customization to your home. Plus it's every bit as gorgeous, durable and hassle-free as Celect Cellular Composite Siding.
Thousands of customizable colors
A distinctive selection of home-defining profiles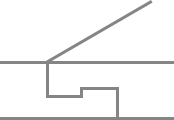 Patented interlocking joints keep out moisture